Image
Pest Control in Hampstead For $45/Month!
What kind of pest problem are you having? Select all that apply.
Pest Control in Hampstead
Here at B&T, we believe that you should feel comfortable in your own home. If you're tired of living side by side with annoying pests, it's time to take action. We offer premier services that target the elimination of several infestations. When you choose us for pest control in Hampstead you can expect:
A thorough home inspection of the interior and exterior of your home is performed by one of our local bug exterminators to determine the infestation you're dealing with and discuss your concern.
Next, we create a custom treatment plan to treat the interior of your home to control the existing infestation. Then, we will treat the exterior to minimize future pest infestations. 
We will return to your home for recurring and effective pest treatments to ensure your satisfaction all year long.
Customized Treatments & Experienced Exterminators
Our exterminators are well trained and have over 41 years of experience dealing with the common pests in Hampstead. When you choose B&T, you'll stay protected from: 
Ants
Spiders
Cockroaches
Bees
Hornets
Crickets
Silverfish
Earwigs
Rodents
Fleas
Mosquitoes
And more!
Image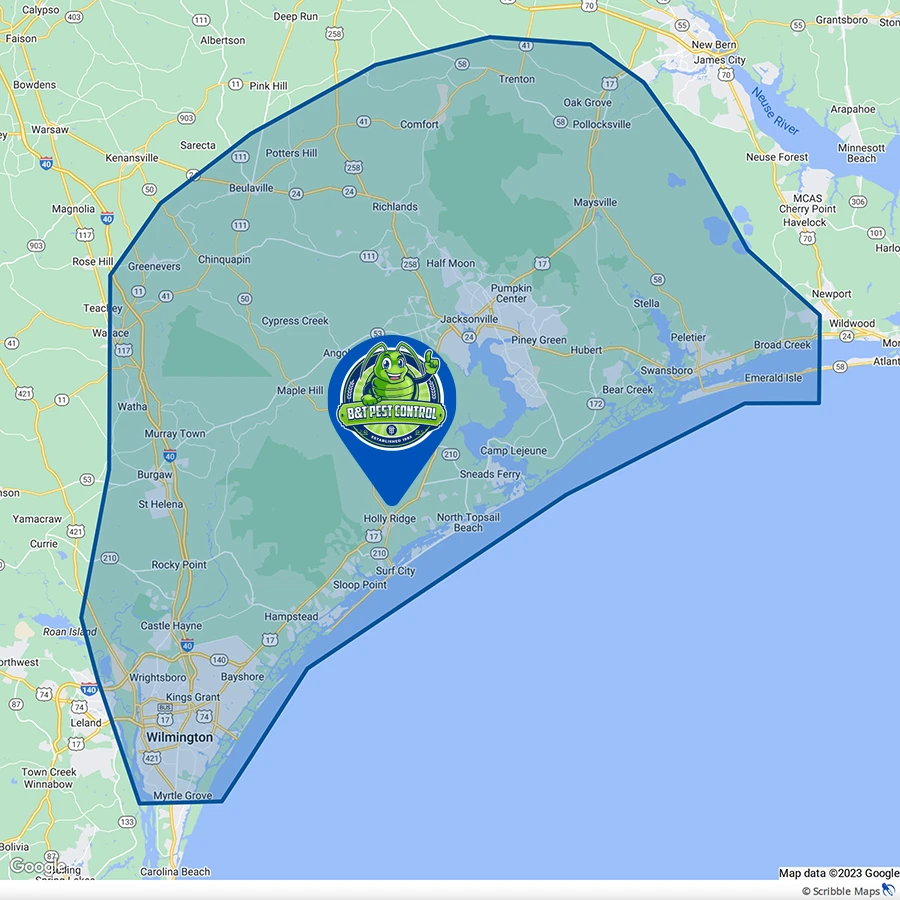 Protect Your Home with PestGuard - Only $45/Month
Here at B&T, we are the only pest control company in Hampstead that offers the guaranteed PestGuard program. This affordable service is an effective remedy for all your pest threats. The PestGuard program includes:
Year-round protection for almost all household pests.
YardGuard for effective lawn pest control up to a ½ acre at no additional charge.
Recurring treatments that ensure bugs stay gone in every season
FREE emergency services if needed!
Bed Bug Treatment in Hampstead
Are you sleeping with bed bugs in your home? With B&T Pest Control, you can stop suffering. Our initial bed bug inspection will identify them and their living spaces within your home. We offer bed bug heat treatments that are guaranteed to eliminate these nighttime invaders in just one treatment.
When you partner with us for bed bug treatment, you'll receive:
A customized treatment plan for your home, addressing its unique needs and current state.
Our effective one-day bed bug heat treatment that can get you sleeping peacefully as early as tonight.
A bed-bug guarantee: see a bed bug within 30 days after treatment? A bed bug exterminator will come back and re-treat for free.
At B&T, we offer quality bed bug treatments at affordable prices. With special offers, our team of bed bug exterminators is dedicated to getting you the relief you need.
Termite Control in Hampstead
If you suspect that termites have infiltrated your home, don't wait to seek help. Our termite exterminators are committed to providing fast and effective services. We understand how stressful it can be to face a termite infestation in your home, and that is why we utilize a proven strategy for eliminating these hungry pests from your space. 
Our termite control includes:
A thorough termite inspection of your space to evaluate the level of infestation.
The installation of a state-of-the-art termite baiting system around the perimeter of your home.
Soil treatments to prevent future termite colonies from targeting your home.
Termite Baiting for Complete Protection
Our termite baiting system starts at the root of the problem by exterminating the termites from inside the colony itself. This is the most effective way to eliminate termites as the system is continuously working to protect your home. This solution requires bimonthly monitoring so you can be certain your home is termite-free year-round.
Redeem $100 Off termite Treatments With Our PestGuardPlus Package!
Rodent Control in Hampstead
When you're left to deal with a rodent infestation in your home alone, it can often feel like a hopeless situation. Luckily, B&T Pest Control has over three decades of experience with rodent control - which is why we make it our mission to keep your home rodent-free for good! As rats and mice are capable of transmitting a wide variety of bacteria, viruses, and diseases, it's important to have the job done right the first time. With B&T's mice exterminators, this will be the last of your worries. 
Our rodent control includes:
An inspection of your home conducted by one of our knowledgeable rat exterminators to search your home for rats and mice, plus their common nesting areas.
We then use these findings to create a customized rodent removal and treatment plan, designed to suit the needs of your home and the extent of your infestation.
Finally, we make sure your days of battling rats and mice are long gone using our rodent exclusion process, which works to effectively seal off any potential entry points into your home.
Mosquito Control in Hampstead
Mosquitoes are drawn to North Carolina for its warm and humid climate, but they are often drawn to our backyards because they are able to find sources of water. If you have a pool, pond, or stream, then you could be at risk. As mosquitoes can potentially transmit viruses in addition to causing itchy and sometimes painful welts, it's important to receive professional mosquito control before spending time in the yard this spring or summer. B&T is here to help!
Our mosquito control always includes:
A thorough inspection of your property and any bodies of standing water.
The creation of a custom treatment plan to reduce the mosquito population.
The exclusive use of EPA-approved products, so you can be confident knowing your family will be safe.
One-Time or Recurring Mosquito Control Services
If you are struggling with other pest problems around your home in addition to mosquitoes, you are in luck! Our mosquito control is also included in our PestGuard pest control program. Meaning with only one program, your home will be protected against a number of the most common household pests. Or if you only need a one-time mosquito control service, our team can do that as well! Whatever the case may be, B&T Pest Control has the solution for you. With our services, you'll be back enjoying time outdoors again in no time.
Flea Control in Hampstead
Fleas are tricky and unfortunately, DIY flea treatments rarely cut it. If you're tired of trying to rid your home of fleas on your own, B&T Pest Control is here to help with our top-notch flea control. Our EPA-approved treatments are fast and effective, ridding your outdoor areas of fleas in three simple steps.
Our flea control includes:
Eco-friendly treatment application - we utilize long-term powders, liquid treatments with insect growth regulators, and aerosol flea treatments to give you eco-friendly relief.

Indoor and outdoor elimination - Getting rid of your indoor fleas is a short-term solution if fleas are still roving outdoors. That's why we treat indoors and out, to give you total elimination and long-term results.

A one-year written guarantee - We stand behind our services, and are proud to offer a one-year guarantee that if fleas return to your home, we will retreat at no additional cost.
Crawl Space Moisture Control in Hampstead
Your crawl space might seem like an empty spot under your home, but its condition can affect the rest of your home. Excess moisture can negatively impact the health of your family and the safety of your home, leading to unnecessary worrying and repair bills. With B&T Pest Control's crawl space moisture control, however, you don't have to fret about any of that.
Expert Care for a Healthy Crawl Space
Our crawl space moisture control service starts with an evaluation performed by one of our expert technicians. We'll inform you of wood moisture content and relative humidity levels, as well as inform you of the ideal levels so you better understand our findings.
With our crawl space moisture control, you can also expect:
8-mil reinforced vapor barriers that are overlapped, anchored, and taped at the seams to block as much moisture as possible from rising to the subfloor.
All cracks and vents to be properly sealed, preventing moist air from flowing into the crawl space from outside.
A reliable industrial-grade dehumidifier to keep the air in your crawl space dry.
Repairs for any moisture damage we find during our initial evaluation.
Your Wallet Will Thank You
Not only does our crawl space moisture control keep your family healthy, but it can also save you money! Closed, conditioned crawl spaces not only have lower humidity levels, but also have lower cooling costs. Vented crawl spaces are more likely to have leaks in air ducts, letting unconditioned air enter the air conditioning system, increasing cooling costs by 20-30%. 
Hampstead Wildlife Control and Animal Removal
It can be dangerous to deal with nuisance wildlife on your own -- that's why we here at B&T Pest Control want to make this process as easy and quick as possible. When you contact us for wildlife and animal removal, you will receive affordable services from our well-trained wildlife removal experts to provide you with fast relief from wild animal intrusions. Note: We Only Service Nuisance Animals, We Do Not Service Dogs or Cats. 
With our help, your home will be guarded against wildlife pests like:
Birds
Squirrels
Raccoons
Opossum
And more!