Image
Complete Pest Control For Only $45/Month!
What kind of pest problem are you having? Select all that apply.
Pest Control in Surf City
We take pest control seriously. Customers in Surf City are even included in our pest control service satisfaction guarantee!
Here's what you can expect from our pest control services in Surf City:
Pest Control Quote: A thorough inspection, our experts will identify pest and bug problems in your home and provide you a quote.
Customized Pest Control Plan: B&T Pest Control prides ourself on offering only the services that you need. Customized pest control plans will ensure we target the real problems, fast.
Recurring Pest Prevention: Pests are hard to eradicate and harder to keep from coming back. With our pest prevention services we'll come back and keep treating and protecting your home year-round.
Your pest problem matters. With quality pest control treatments in Surf City, trust us to make your home comfortable again.
Image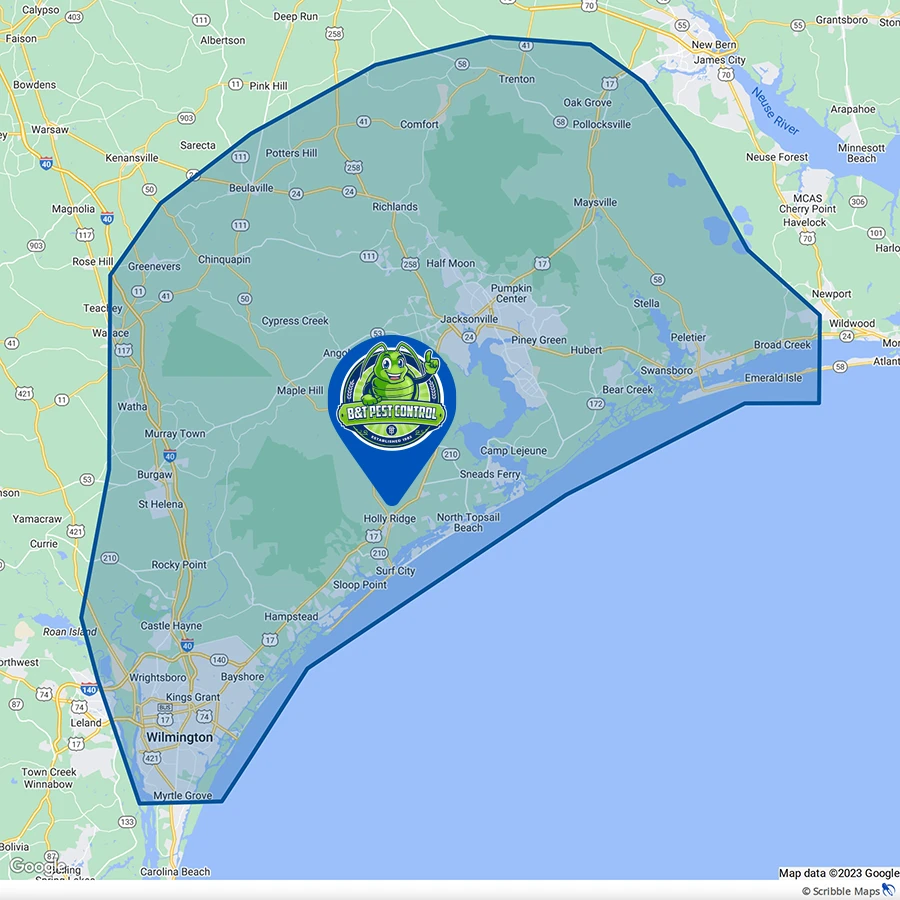 For Long-Lasting Protection, Use PestGuard - Only $45/Month!
At B&T Pest Control, we have served customers in Eastern North Carolina for over 36 years. Our PestGuard program frames us as the expert choice for pest control in Surf City. This inclusive and affordable program can serve all your pest control needs for only $45/month and a one-time setup fee.
Here's what it includes:
Year-Round Protection: Ensure the safety of your home without exception, year-round.
All Household Pests, Gone: With exceptions only for bed bugs and wood-destroying insects, PestGuard protects you from ants, cockroaches, rodents and more.
Protection from *Premium* Pests: At no extra charge, we protect you from dangerous pests such as rats, fire ants, fleas, mosquitoes, hornets and yellow jackets.
YardGuard: At no additional charge, PestGuard protects lawns up to one half acre, from pests.
Recurring Treatments: Exterior inspections and pest control treatments are included up to 6 bi-monthly times per year.
Free emergency services: To ensure your continued comfort and relief from pests, we provide free emergency services.
We are the first and only company to offer the guaranteed PestGuard program. Feel confident in all your Surf City pest control needs with this easy set-up program today.
Bed Bug Treatment in Surf City!
Are you waking up to fresh bug bites every day? Contact B&T Pest Control to stop losing sleep night after night. With our bed bug control in Surf City, you can feel confident about ridding your home of bed bugs once and for all.
Curious how our bed bug removal process works? First, we'll perform an inspection of your home. This allows us to identify bed bug areas and the extent of their population. Next, we'll customize a treatment plan for you. We understand Surf City homes and will ensure perfectly tailored treatments to protect your family from these pests.
Finally, our thermal heat bed bug treatment will rid your home of bed bugs once and for all. The heat from this treatment can kill all stages of bed bug growth, and even reach bed bugs residing in:
Beds
Bedding
Mattresses
Futons
Furniture
Wall cavities
With our 30 day guarantee, you can feel confident in knowing that a professional bed bug exterminator will re-treat your home for free if you spot bed bugs during that period. Don't succumb to another night of restless sleep, partner with us today!
Termite Control in Surf City
Although termites are sneaky and destructive pests, there is no need to fear with our termite inspection and control services! We understand how daunting it can be to face an infestation but our seasoned exterminators will make the process painless and hassle-free. We utilize a proven strategy to identify, target, and eliminate these wood destroying insects quickly and effectively for the long-term. 
If you suspect that termites might have infiltrated your home, don't wait to take action. These hungry little critters can cause a great deal of damage in a short amount of time if left unattended. It is important to keep an eye out for the signs of a termite infestation which include:
Discarded wings and termite droppings
Mud tubes along walls
Sagging floors and hollow sounding wood
Our  termite treatments involve state of the art termite baiting systems to combat the problem at the source. This solution works to eliminate termites from inside the colony and it is functioning at all times so that no pest is left behind.  We also provide soil treatments around your home to keep future termites at bay. Our termite exterminators will even go into hard to reach places, such as crawl spaces, in order to secure your home against termites. When you need effective termite control in Surf City, look no further than B&T Pest Control!
Redeem $100 Off Termite Control With Our PestGuardPlus Package!
Rodent Control in Surf City
Your home is meant to be a place of relaxation and comfort, so when rodents invade your space we know how overwhelming it can feel! With so many things to love about living on the coast of North Carolina, it's no wonder these pesky vermin are so drawn to invading our homes. With over 36 years of experience helping our customers achieve rodent-free homes, B&T Pest Control is your trusted source for the best rodent control in Surf City!
Our process starts with an inspection, where one of our highly trained exterminators in Surf City will seek out any trace of rats and mice on your property, at no cost to you! Based on our findings, we then create a customized treatment plan, designed to eliminate your rodent problems using a variety of baits and mechanical traps. To top it all off we use our unique rodent exclusion process to keep rodents away for good! This includes sealing off any cracks or openings that could serve as potential entry points for mice and rats seeking shelter inside your walls and foundation.
Not only is our mouse and rat control ultimately more cost effective for you, it also gives you and your family the lasting peace of mind you've been longing for! Given rodents' ability to easily wreak havoc on your home by chewing away at insulation and contaminating your food with harmful diseases, it's important to take hold of your rodent infestation right away. One call to B&T for rodent control and you can relax knowing your home and family's well-being are in good hands!
Mosquito Control in Surf City
The same warm, humid weather that attracted us to Surf City is exactly what draws in mosquitoes. Aside from their itchy bites, mosquitoes carry a variety of diseases that can be harmful to you, your family, and your pets. That's why, when faced with any kind of mosquito problem, it is always best to call in the professionals at B&T Pest Control. 
Our mosquito control is the safest and most effective solution to any mosquito issue. Whether it be for a single event you are hosting or recurring treatment for long-term protection, we have you covered. Beginning with a thorough inspection of your property, our team is able to design a custom treatment plan to reduce the mosquito population present. Plus, by using only EPA-approved products you can rest assured knowing the safety of your loved ones is never put at risk!
Our mosquito control is included in our PestGuard program! That means one affordable monthly payment will ensure your home is protected against all kinds of common household pests. After all, we aim to make things as convenient as possible for our customers. 
Flea Control in Surf City
As one of Eastern NC's most recommended companies, B&T Pest Control is the clear choice when it comes to  flea control. Our skilled exterminators are experts at eliminating fleas in a fast and efficient manner and restoring your pest-free home in no time! Our Surf City flea control services include:
EPA approved elimination techniques: Our long-term powders, aerosol treatments, and liquid treatments are all EPA approved to give you the eco-friendly relief you crave.
Total flea protection, inside and out: We treat your home inside and out to give you total protection from the buzzing, biting, and fleas no matter where you spend your time.
A one-year guarantee: Our one-year written guarantee promises that if fleas re-infest your home within a year, well retreat for free.
Our flea treatment is second to none. Don't suffer in a flea-ridden home any longer. If you're ready to eliminate household fleas once and for all, give our flea exterminators a call today at 910-356-9966!
Crawl Space Moisture Control in Surf City
If you're like most homeowners, you probably don't think about your crawl space very often. It's easy to let it get neglected, which can include letting the moisture levels get too high. This results in structural issues, increased risk of termites, and health complications for your loved ones. 
Crawl Space Services You Can Count On
Our experts know exactly what to look for during your free crawl space evaluation to ensure your home is in the best condition possible. They'll measure the wood moisture content of your home's structure and the relative humidity level, as well as take the necessary steps to get your crawl space back into tip-top shape. 
Our crawl space moisture control in Surf City includes:
8-mil reinforced vapor barriers that are strategically overlapped, secured, and the seams are taped to reduce the amount of moisture that can reach the subfloor of your home.
Sealing off cracks in the crawl space, as well as vents, to prevent moist air from finding its way in.
An industrial strength dehumidifier with a pump to keep moisture out of the air.
Repairs to your home as needed to remedy moisture damage.
Save $250 on Crawl Space Moisture Control in Surf City
Keeping your home in the best shape possible shouldn't cost a fortune, which is why we make special offers just for our valued customers. Right now, when you sign up for our crawl space moisture control you'll save $250!
Keep Your Home Safe
When there's excess moisture in your crawl space, it can lead to a variety of other issues that seriously impact the safety of your home. Wood rot occurs when wood moisture levels exceed 28%, compromising the structural integrity of your home, endangering your loved ones inside. High moisture levels also make ground termite treatments ineffective, continuing the thrive instead of being eliminated. Rather than damage your home and have a large repair bill left behind, choose our crawl space moisture control in Surf City. We'll stop these issues from even happening!
Surf City Wildlife Removal and Animal Control
Scratching noises, faint scurrying, teeth marks on your furniture or baseboards, unexplainable droppings, and nests can all be signs that you have an unwanted animal in your home. Rather than attempt to remove a wild animal on your own, which is both difficult and dangerous, trust the professionals here at B&T Pest Control. Note: We Only Service Nuisance Animals, We Do Not Service Dogs or Cats.
Save 10% On Wildlife Exclusion!
Our experts will protect your home against birds, raccoons, squirrels, opossums, and more. When you partner with us for your wildlife removal, we will: 
Conduct a wildlife inspection of your home to determine how animals are entering your home and where they are hiding.
Create a custom wildlife removal plan to responsibly and humanely remove the animals from your home.
Perform animal exclusion repairs to prevent wildlife from re-entering your home.
Decontaminate and sanitize affected areas, leaving your home even cleaner than before.
High Expectations, High Quality
We take pride in our team members. We believe in conducting business fairly, loyally, and with integrity. B&T is ready and able to help you with Jacksonville pest control services. Equipped with modern technological advances and hard work, our team members are ready to take on any problem and deliver quality pest treatment in Surf City. With us, you can have confidence that your pest control team is dedicated to your comfort and home.