Get the Best Pest Control Services in Maple Hill
What kind of problem are you having? Select all that apply.
Pest Control in Maple Hill
Are you tired of dealing with pesky pests invading your home? Look no further! Our team at B&T Pest Control is here to provide you with top-notch residential pest control in Maple Hill. With over 41 years of experience, we guarantee to handle all your pest problems with utmost efficiency. 
When you partner with us for pest control in Maple Hill, you can expect:
A comprehensive examination of your property to identify any existing or potential pest problems allows us to address them proactively.
A team of trained and experienced exterminators who know exactly how to tackle various pest issues and ensure effective results.
Family and pet-friendly solutions that prioritize the safety of your loved ones.
Recurring pest control services to provide ongoing protection and ensure that your home remains pest-free throughout the year.
Local Experts You Can Trust
At B&T Pest Control, we take our mission seriously. Our top priority is to provide friendly, fast, and professional service that not only protects your property but also keeps your family and pets safe. We combine cutting-edge technology, hard work, and outstanding customer service to keep your home pest-free.
Image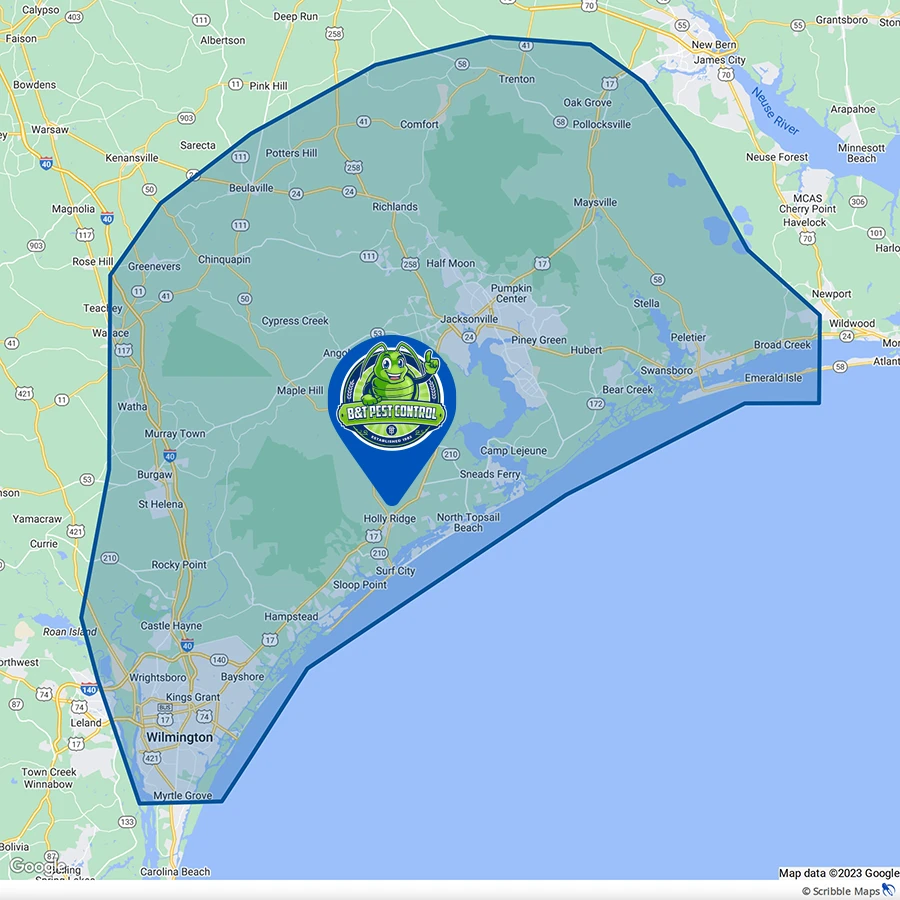 Termite Control in Maple Hill
Are you tired of battling pesky termites in your home? Look no further than our environmentally friendly termite treatments that provide unmatched protection and peace of mind. With over 41 years of experience, we are the trusted termite exterminator in Maple Hill. 
Our termite control services in Maple Hill include:
A thorough inspection and evaluation can save you thousands of dollars in potential damages. 
Our comprehensive PestGuardPLUS Termite Service Program ensures that your home is protected year-round.
A combination of liquid applications, bait system installations, and borate applications to eradicate termites from your property.
Proactively monitor your bait stations every two months to prevent a recurrence of termites.
Peace of mind knowing that our team is constantly on top of termite prevention.
Schedule Your Inspection Today!
Environmentally Friendly Termite Treatments
Our eco-friendly approach ensures that your home is protected from termites without harming the environment. We use safe and effective methods that are proven to eliminate these pests. Contact us today!
Bed Bug Control in Maple Hill
Are bed bugs keeping you up at night? Don't toss and turn any longer - our bed bug control service in Maple Hill is here to help! With our expert bed bug inspection and high-intensity heat treatment, we guarantee to get rid of bed bugs once and for all. 
When you partner with us for bed bug control in Maple Hill, you can expect: 
Our expert bed bug inspections will identify and locate any infestation in your home.
Experience the power of our high-intensity heat treatment that eliminates bed bugs in one day.
No more worrying about multiple treatments or replacing infested furnishings.
Our non-chemical approach ensures the safety of your family and pets.
Rest easy knowing that our guaranteed results and 30-day warranty have you covered.
Rodent Control in Maple Hill
Maple Hill, North Carolina is a beautiful city, but its natural features can attract rats and mice. Don't let these unwelcome guests ruin your peace of mind. Let our rodent control service in Maple Hill provide you with a rodent-free home. 
Our rodent control in Maple Hill includes:
Free Rodent Inspection: Our experienced team will thoroughly inspect your home to identify any signs of rodents and determine the best course of action.
Exterior Rodent Baiting: We strategically place bait stations around the exterior of your home to lure and eliminate rodents before they even have a chance to enter.
Interior Trapping: For any rodents that have already made their way inside, we use effective and humane traps to safely remove them from your home.
Rodent Exclusion: Our expert technicians will seal off all possible entry points to prevent future infestations. We believe in solving your pest problems, not just treating the symptoms.
Ongoing Prevention: We offer ongoing rodent control services to ensure that your home remains rodent-free for the long term.
Rodent Prevention
Remember, prevention is key! With our rodent exclusion techniques, we can help you avoid future infestations and save you money in the long run. Don't let rodents ruin your home and jeopardize your family's health. Take action now and give us a call. Let us be your trusted rodent control service in NC!
Mosquito Control in Maple Hill
Don't let mosquitoes and ticks dictate your summer. Take control of your outdoor space with our highly-effective mosquito and tick service in Maple Hill. Trust the experts who understand local pests and provide the best solution tailored to your needs. Take a step towards creating a mosquito and tick-free environment by choosing our reliable pest control program. Act now and embrace a summer without buzzing and biting!
Wildlife Control in Maple Hill
Are you experiencing an increase in wildlife pest problems in your area? B&T Pest Control is here to help! Our team of certified wildlife technicians is equipped with the knowledge and tools to provide effective and responsible wildlife control services. Don't wait for the problem to escalate - contact us today and experience the B&T difference in wildlife control!
Our wildlife control in Maple Hill removes wildlife creatures such as: 
Birds
Squirrels
Raccoons
Opossums
And more
Protect Your Loved Ones
Wildlife pests can pose significant risks to your home and family. They can spread diseases, contaminate your food, and even cause destructive house fires by chewing through wires. Don't put your loved ones at risk. Trust the local wildlife experts at B&T Pest Control!