Bed Bug Treatment in Jacksonville
Are you tired of being bitten while you sleep? Do you want to finally get rid of those pesky bed bugs? Look no further! Our bed bug control service in Jacksonville is here to rescue you! With our expert team and innovative treatments, you can say goodbye to bed bugs for good. Don't let these tiny pests control your life any longer. Take back your peace of mind and enjoy restful nights again.
Our bed bug treatments in Jacksonville include: 
A thorough inspection of your home to identify all bed bug hiding spots.
Customized treatment options to effectively get rid of your infestation. 
High-intensity heat treatments to eradicate bed bugs at all growth stages.
Peace of mind with our 30-day warranty!
Bed Bug Treatment Cost
Our treatment is also cost-effective. While no effective bed bug treatment is "cheap," you won't have to pay for multiple treatments and go to bed wondering how many times you might be bitten while you sleep. It also reduces the costs involved in replacing infested furnishings such as mattresses and box springs as chemicals wouldn't have been used!
Heat Bed Bug Treatment for the Safest Approach
B&T Pest Control uses a thermal heat bed bug treatment as a non-chemical approach. By applying heat throughout a room or structure, we can kill all the growth stages of the bed bug - including eggs - with a single treatment.
Efficient Bed Bug Removal In One Day
Our bed bug heat treatment is convenient because we can eliminate bed bugs in one day. Our process will force heat into beds, bedding, mattresses, furniture, and wall cavities, leaving bed bugs no place to hide. Your home or apartment becomes available immediately following treatment without worries about pesticide residues in your bed.
Learn More About Out SleepGuard Program
Why You Can't Get Rid Of Bed Bugs On Your Own
Once thought eradicated in the United States, bed bugs have returned. Bed bug elimination is challenging for several reasons:
Bed bugs multiply quickly; an entire population can double every 16 days. 
Bed bugs can detect chemical odors and may avoid treated areas.
Bed bugs are hard to kill. Removing bed bugs involves attacking them in multiple ways.
Many want to think that a store-bought product or internet home remedy is the answer. While you may have limited success, you are unlikely to achieve the desired results — especially when it involves bed bugs! According to a survey of pest control professionals taken by the National Pest Management Association, bed bugs are among the most troublesome pests to eliminate from homes. If bed bugs put up a good fight against pest control professionals, you can rest assured that it is worth it to use local bed bug control in Jacksonville from B&T Pest Control.
Guaranteed Results & Our 30-Day Warranty
We are a local pest control company that aims to provide excellent service and customer satisfaction. Our bed bug heat treatment guarantee ensures that we will tailor a treatment plan to effectively eliminate bed bugs from your home or rooms. If bed bugs are discovered in a treated area within 30 days, we will conduct additional treatment at no extra cost. If you purchase mattress encasements and box spring encasements with our service, the guarantee will be extended to 90 days.
Image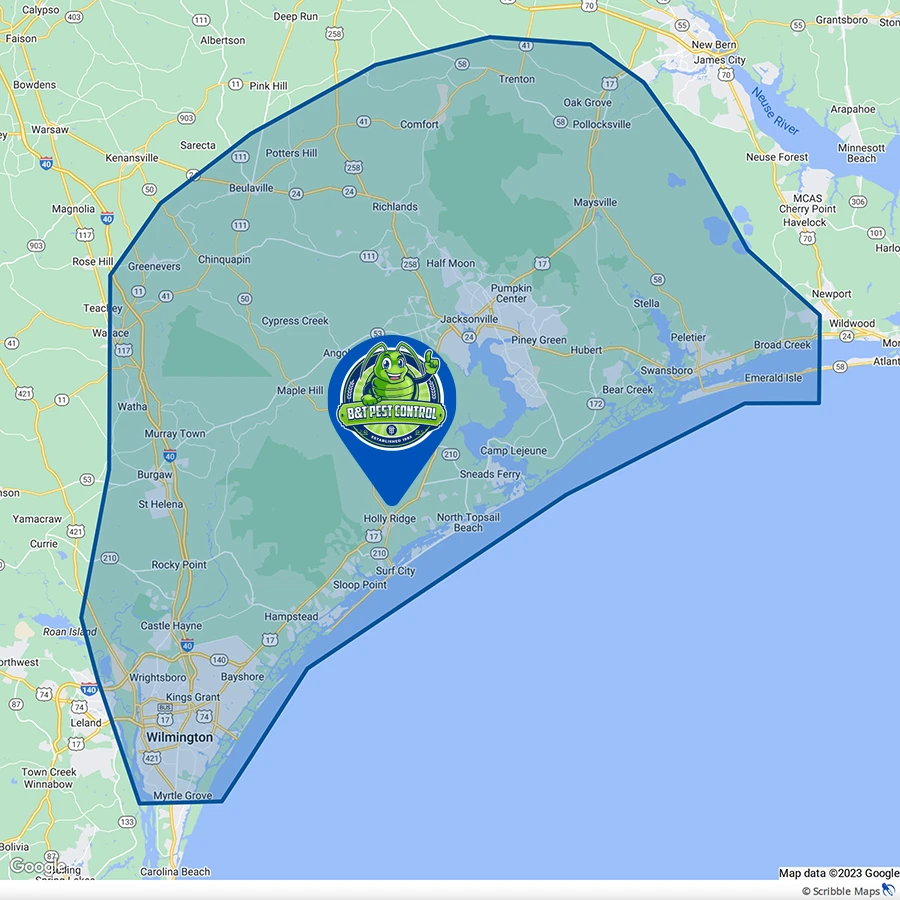 Areas We Service
B&T Pest Control has proudly offered our pest control services in Jacksonville and surrounding communities in eastern North Carolina since 1982, including: