Image
Complete Pest Protection At Only $45/Month!
What kind of pest problem are you having? Select all that apply.
Pest Control in Topsail Beach NC
When pests take over your home, you want them gone as quickly as possible. While baits, traps, and DIY treatments may temporarily solve your pest problems, it's professional pest control that truly helps control and prevents pests in your home. If you need service you can trust, turn to your neighbors here at B&T Pest Control! With our 41 years in the pest control industry and our countless reviews on Google, we know a thing or two about providing the best service possible to homeowners in our community. With our help, you can eliminate pests in your home and get back to living comfortably!
Effective Pest Control in Topsail Beach NC!
While pests and bugs may be tiny, finding a trail of them on your kitchen counter or around your bathroom sink can ruin your peace of mind. Some of the more stubborn pest infestations have nothing to do with how clean or dirty your home is, but others can be prevented by taking a few extra precautions to make your home unattractive to these pests. These include:
Keeping your food stored in tight-lidded containers (especially sweet and/or sticky foods)
Cleaning up crumbs and wiping down tables and counters as messes occur
Fixing leaks around the home — pests and bugs are attracted to the moisture
Sealing entry points like cracks in baseboards with caulk and repairing holes in window screens.
Keeping shrubs and tree limbs away from the sides of your home.
Image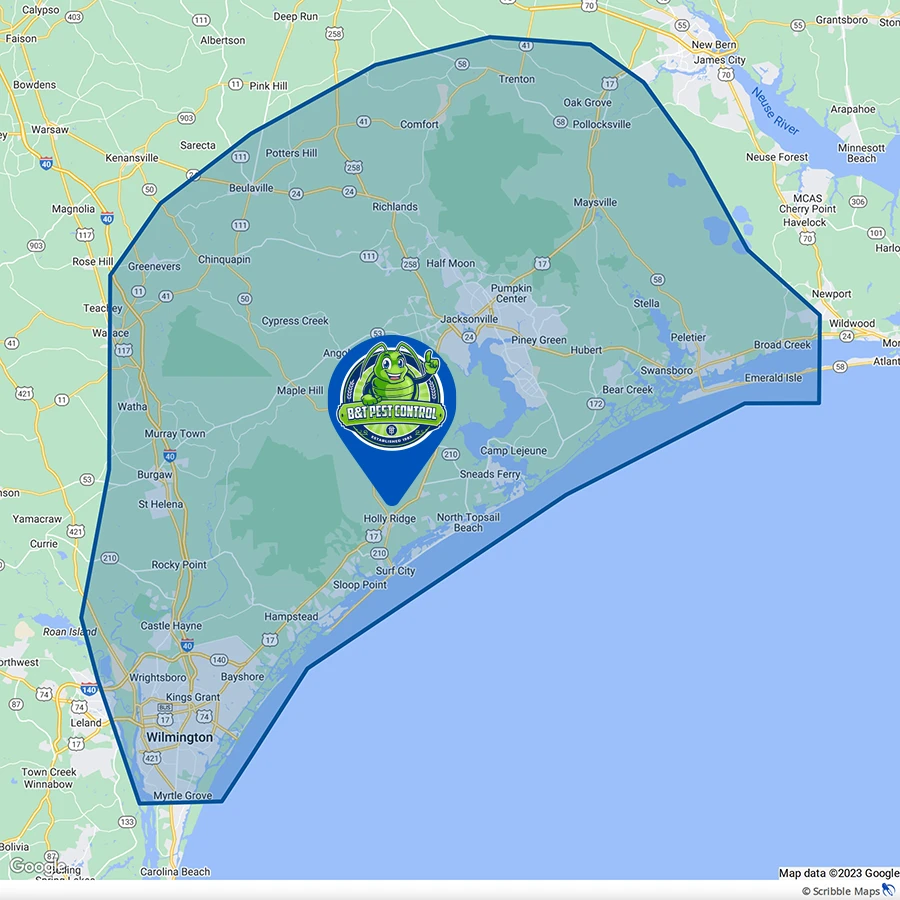 Our Affordable PestGuard Program
Here at B&T Pest Control, we offer the most inclusive pest control program in Topsail Beach that offers families and homes like yours the ultimate pest defense. Our PestGuard program is an affordable option that provides year-round protection at only $45/month with a one-time setup fee! Our technicians in Topsail Beach will defend your home from all of the common pesky household pests and more. Here's what else our PestGuard program in Topsail Beach offers:
Year-Round Protection: Your home is covered all year without exception.
Covers Almost All Household Pests: We cover almost all of the crawling pests that invade your home. Our only exceptions are German roaches, bed bugs, and wood-destroying insects.
Covers *Premium* Pests: Rats, fire ants, fleas, ticks, mosquitoes, hornets, and yellow jackets at no extra charge! Most companies charge extra for these pests!
YardGuard: PestGuard covers lawns for up to one-half acre at no additional charge.
Recurring Treatments: 6 bi-monthly exterior inspections and treatments per year.
Additional emergency services if needed!
*PestGuard does not cover wood-destroying pests or bed bugs
Mosquito Control in Topsail Beach
Warm weather, outdoor fun, and lazy evenings on the patio or lawn are daily reminders of why you chose beach life. Unfortunately, all the things that drew you to the North Carolina coast also draw mosquitoes. A few mosquitoes are annoying, but when afternoon thunderstorms trigger thousands of these pests to emerge, your family's health could be at risk. Mosquitoes carry viruses like West Nile and Zika and can also transmit other serious illnesses like dengue fever and encephalitis. Don't surrender your health and leisure time to hordes of these insects. At B&T Pest Control, we specialize in guaranteed mosquito control in Topsail Beach.
Guaranteed Protection from Mosquitoes
When mosquitoes begin buzzing in your ears or leaving itchy welts on your skin, you want fast, effective relief. Toxic sprays and foul-smelling candles or oil burners won't solve your mosquito problems because they don't target the source of the problem. The mosquito exterminators at B&T Pest Control do just that with family-safe In2Care technology that employs a powerful EPA biocide to kill mosquitoes at every stage of development. We even offer mosquito control packages and mosquito treatments for your special events!
Termite Control in Topsail Beach
The warm, balmy weather of the southeast coast is ideal for outdoor activities. Unfortunately, it's also ideal for a voracious pest that can damage both your home and your budget. Holes in drywall or signs of what appear to be moisture damage may in fact be evidence of termites. Once these wood-boring insects invade your home, they can do extensive damage. The average repair bill from an infestation is over $3,000. With 41 years of experience in termite control using EPA-approved methods, B&T Pest Control can reclaim your home from these destructive pests.
When it comes to dealing with termites, time is money. Each day that passes without relief means more costly damage. At B&T Pest Control, we know how important prompt service is to a worried homeowner. With just a phone call, one of our highly trained exterminators will be on your doorstep ready to do a complete termite inspection. If we find activity, we'll implement a plan using PestGuardPlus technology, a uniquely effective treatment that focuses on both termite control and prevention of future infestations. 
Here's what you can expect with our termite control in Topsail beach:
Installation of a termite bait system around the perimeter of your home.
Treatment of the soil around your home which may also be harboring termites.
Targeted treatment to areas especially vulnerable, like crawlspaces and the undersides of porches.
Continued monitoring of the situation to assure termites don't return.
Bed Bug Treatment in Topsail Beach
Many people believe that a bed bug infestation is something that happens to other people. In reality, the rapid rise of these blood-sucking pests means anyone can fall victim to them. With adults being the size of an apple seed and their eggs no larger than a grain of sand, they can easily hitchhike into your home on luggage or a piece of thrifted furniture. If you discover an infestation, call us for bed bug treatment in Topsail Beach. B&T Pest Control can not only rid your home of bed bugs, we can do it in just one day.
Effective, Safe Solution to Bed Bugs
Bed bug extermination doesn't have to mean exposing your family to harsh chemicals or repeated interruptions to your routine. Our bed bug treatments use forced thermal heat to kill bed bugs and eggs in bedding, furniture, wall crevices, and anywhere else they may be hiding. The result? No more bed bugs and a return to a good night's sleep.
Rodent Control in Topsail Beach
Living alongside rodents isn't only unpleasant, it can be extremely dangerous as well! Their reputation for causing mayhem is well-deserved and your family shouldn't have to be in harm's way. That's where our rodent control in Topsail Beach comes in handy! Here in Eastern North Carolina, our local mouse and rat populations are known carriers of dangerous diseases like Hantavirus, Salmonella, Typhus, and even Bubonic Plague! Don't trust anyone but the area's best to safeguard your family's health and well-being. 
Our rodent control service includes:
A full inspection of your home.
A personalized treatment plan that caters to your specific needs.
Mouse and rat exclusion techniques to protect against future infestations. 
The restored peace of mind that comes with a rodent-free home.
And more!
Exterminators You Can Count On
At B&T Pest Control, our technicians are rigorously trained and held to the highest quality and professionalism standards in all of North Carolina. See the difference quality mouse removal can make for you and book your inspection today!
Get Guaranteed Pest Control From Your Local Experts
No one wants to sleep another night in their house with pests. With over 41 years of experience, our licensed exterminators are all highly trained in the latest techniques and use only top-quality products in your home, but where they truly shine is going above and beyond for our customers. From the time you call our office until one of our friendly technicians arrives on your doorstep, you can expect to be treated with the care and respect you deserve.