Image
Complete Pest Protection At Only $45/Month!
What kind of pest problem are you having? Select all that apply.
Pest Control in Jacksonville
Home to Camp Lejeune and New River Air Station, we are proud to offer our pest control services in Jacksonville, NC, including:
General Pest Control and Bug Extermination
Flea Control
Rodent Control
Bed Bug Treatments
Termite Control
Mosquito Control
Wildlife Control
Time-Tested Pest Control
When you work with B&T Pest Control to service your home, you will have a friendly member of our team to walk you through what to expect. Our professional pest control exterminators will:
Conduct an internal and exterior inspection of your home, identifying the pests plaguing your home.
Create a pest control strategy that removes your current pests and prevents future pest infestations from becoming a problem.
Use top-quality products to ensure your safety. All our products are EPA approved, safe for your home, family, pets, and the environment. 
Image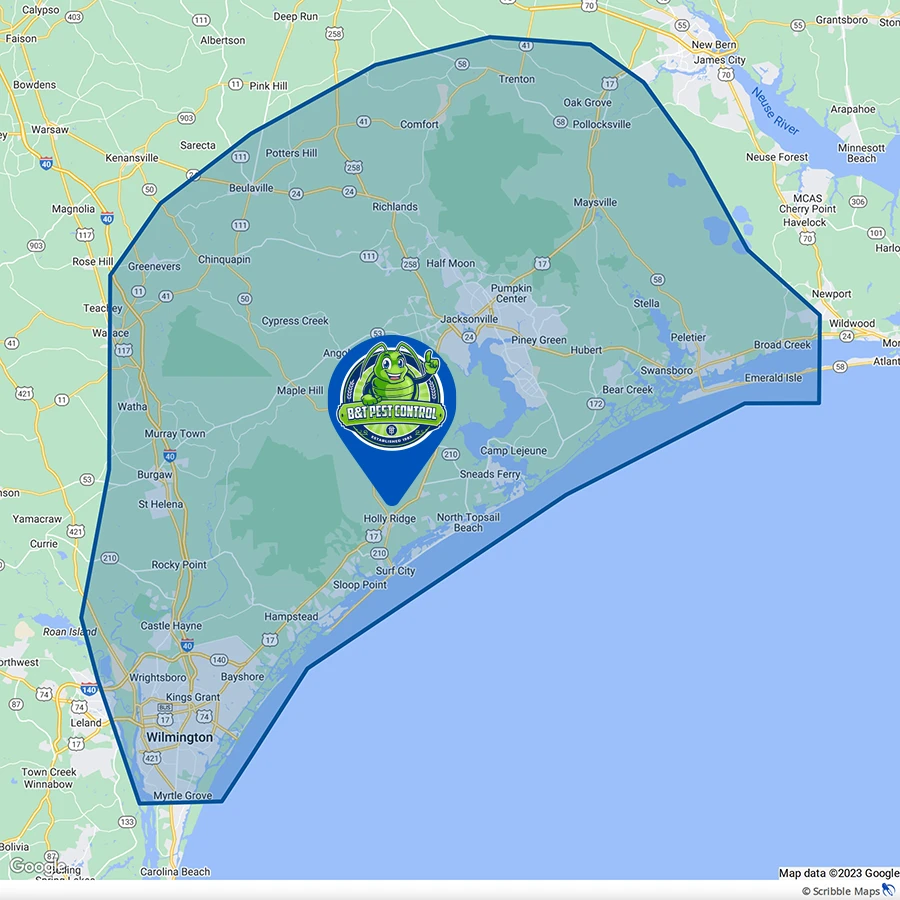 PestGuard Package Only At $45/Month
At B&T Pest Control, we know the last thing you want to deal with when facing a pest infestation are hidden fees from your pest control company. That's why we proudly offer the most comprehensive program. Our PestGuard program is an affordable residential pest control program at just $45/Month, plus a one-time setup fee. With PestGuard, protect your home from general pests, as well as premium pests that most companies charge extra for, including:
Rats and Mice
Fleas
Fire Ants
Roaches
Mosquitoes
Cockroaches
Yellow Jackets and Hornets
And More!
This indoor and outdoor pest control solution is year-round protection, covering almost all pests that will invade your home. Our professional bug exterminators are here to help! With 6 treatments and inspections annually, you know your home is always covered. Even better, we will cover up to one half acre of land at no additional charge. With our FREE emergency services, you'll never have to worry about pests again!
PestGuard does not cover bed bugs and wood-destroying insects like termites. 
Rodent Control in Jacksonville, NC
Rodents are dangerous pests, able to spread a variety of diseases to your family and pets. The moment you find a mouse or rat in your home, call on B&T Pest Control to help! 
 Our rodent control in Jacksonville, NC, includes:
A complimentary rodent inspection of your property. 
A customized rodent control plan, crafted specifically for your home.
Our rodent exterminators to use a mixture of baits and mechanical traps to remove the rodent infestation from your home. 
The prevention of future rat and mice infestations with our rodent exclusion services.
The filling of cracks and openings that may allow rodents and other pests to make their way inside your foundation, attic, walls, and other parts of your home. 
Bed Bug Treatments in Jacksonville, NC
Don't spend another night losing sleep over bed bugs. If you suspect that you have bed bugs living in your home, let B&T Pest Control help. Our friendly bed bug exterminators in Jacksonville have been exterminating bed bugs since 1982, and have adopted the latest tools and technology to rid your home of these bugs as quickly as possible – just one day! 
With our cutting-edge bed bug heat treatments, we can remove bed bugs in a single treatment, saving your furniture and mattresses. This non-chemical approach for bed bug removal kills all stages of bed bug life in just one treatment, including adults, nymphs, larvae and eggs, something that the leading bed bug pesticides simply cannot do. 
Our bed bug control control in Jacksonville is guaranteed. After applying our customized treatments, your home is guaranteed to be bed bug-free. If a bed bug is found within the next 30 days within a treated area, or 120 days if you purchase our mattress and box spring encasements, we will perform further treatments at no additional charge to you. 
Termite Control in Jacksonville, NC
Your home is one of the biggest investments you'll ever make. Don't let it fall prey to wood-destroying insects! Our termite control in Jacksonville is all you'll need to protect your home from these costly insects. Our termite exterminators are trained to look for signs of infestation, as well as conditions that can make your home susceptible to termite infestations.
Our termite control in Jacksonville, NC, includes:
An in-depth inspection of your property, including your crawl space.
A customized treatment plan to exterminate existing termites and prevent future termites from moving back in. 
The use of the most up-to-date equipment in the industry, monitoring conditions that will make your home more attractive to termites. 
The use of EPA-approved products, keeping your home safe for your loved ones.
Always friendly and professional termite exterminators. We work to effectively treat your home, staying out of your way so you can get back to your day. 
To guarantee we provide the best termite control in Jacksonville, every termite job has at least one exterminator on site that has passed the NC State Structural Pest Control Certification standards. 
Mosquito Control in Jacksonville, NC
Don't let mosquitoes stop you from enjoying your backyard this summer! Our mosquito control in Jacksonville NC safely kills off the mosquito population around your home, allowing you to get back to spending relaxing evenings outside. Based on the results of your mosquito inspection, our team of expert mosquito exterminators will craft a custom plan to reduce the mosquito population around your property. Our EPA-approved mosquito control products are safe and effective, meaning your family can enjoy your yard without the worry of dangerous pesticides. 
Have a Mosquito-Free Yard, Guaranteed!
Whether you're looking for recurring mosquito control in Jacksonville or single-event mosquito control treatments, we have a service that will work for you! Unlike our competitors, mosquito control is even included in our PestGuard pest control program—this way, you can protect your home from not just mosquitoes, but a wide array of other pests! Even better, our mosquito control in Jacksonville is backed by our satisfaction guarantee.
Moisture Control in Jacksonville, NC
The humidity of North Carolina creates a beautiful green place to live, but it also creates a wet environment for pests.  Pests will particularly love to make their home in a damp crawl space. The moisture of humidity can get trapped in crawl spaces, creating the perfect environment for unwanted pests. With our Jacksonville moisture control services, we can keep the moisture levels in your crawl space at the optimal levels needed to protect your home!  
Pest problems got you down? We also offer pest control in Jacksonville! Call 910-329-1337 today to speak with one of our friendly exterminators!
Protecting All of Your Home with our Crawl Space Moisture Control
Not only does excess moisture bring pests, but it can also encourage the growth of mold.  Our Jacksonville moisture control services can help protect your crawl space from both mold and pests.
We offer evaluations on all our Jacksonville moisture control services! By looking at your crawl space, we will be able to tell how much moisture is in your crawl space and what the best treatment option is for your home.
Creating a Safe Home For You and Your Family
Treatment options include:
8-mil reinforced vapor barriers- B&T goes the extra mile by overlapping, anchoring, and taping our vapor barriers to decrease the amount of moisture that can rise from the ground to the subfloor.

Sealing all cracks and vents- this prevents the inflow of moist, outside air.

Installation of industrial-grade dehumidifiers with pumps- these keep the air in your crawl space dry— better than the cheap, indoor portable dehumidifiers other companies use.
Crawl spaces can be hard to access, especially when you are already incredibly busy.  Let us take care of you and protect your home with our Crawl Space Moisture Control.
Save Big on Our Moisture Control
Now, when you choose B&T for our Jacksonville moisture control services, you can save up to $250! Sign up for our complete crawl space sealing and dehumidifier service and save!
Jacksonville Nuisance Animal Control and Wildlife Removal
You shouldn't have to put up with unwanted wildlife making their way into your home. With B&T Pest Control, you don't! Our team of animal control experts in Jacksonville, NC can quickly and efficiently remove wildlife from your home – we've been doing it since 1982. Note: We Only Service Nuisance Animals, We Do Not Service Dogs or Cats.
With our help, you can rest assured knowing your home will be protected against wildlife pests like:
Raccoons
Squirrels
Birds
Opossum
And more!
Through conducting a thorough investigation of the wildlife problem you're facing, we will create a plan that effectively removes these pests from your property, placing live traps, filling holes and sealing cracks and crevices around your home.  
Flea Control in Jacksonville
Fleas can be a problem for anyone, even if you don't have pets. Once they're inside your home, these insects burrow between couch cushions, into your carpet, and anywhere else they can reach. This makes it incredibly difficult to treat them, especially if you're using ineffective DIY options. For real relief, trust our flea control in Jacksonville.
When you partner with B&T Pest Control, our flea exterminators will:
Use aerosol treatments to eliminate fleas in carpets, upholstered furniture, and hardwoods.
Apply insect growth regulators to stop fleas from growing and reproducing.
Scatter powders that are specialized to give you long-term relief from fleas.
Back our Flea Magic Treatment with a one-year warranty that includes free re-treatments.
A Pest-Free Home, Guaranteed!
No matter the pest you're facing, B&T Pest Control has a service or program that will get the job done. Family-owned and operated since 1982, we are the experts in Jacksonville pest control and will go the extra mile to leave you with a smile on your face.