Termite Control in Jacksonville
Are termites silently wreaking havoc on your home? Don't wait for the damage to become visible. Our environmentally friendly termite treatments are here to save the day! With over 41 years of experience as the leading termite exterminator in Jacksonville, we have the expertise to get rid of termites once and for all.
Our termite treatments include: 
Comprehensive termite inspections to detect any signs of infestation.
Monitoring services to proactively prevent termite return.
Ongoing termite control to ensure long-term protection.
Guaranteed services for your peace of mind!
One-Time Termite Treatments for Your Peace of Mind
Not interested in recurring service? That's okay, too. We also offer one-time termite treatments! The best part? If you purchase our one-time termite treatment, we will also throw in a one-time exterior pest control treatment as well! That's $225 worth of savings!
Our Jacksonville Termite Treatments
Our team at B&T has a program unlike any of our competitors – PestGuardPLUS! This program takes our PestGuard program up a notch, by adding termite control and prevention treatments! With PestGuardPLUS, we will:
Install a bait system around the perimeter of your home.
Treat the soil around the exterior of your home.
Treat high-danger areas underneath porches and inside your crawlspace
Our Termite Service Program
There are only three ways to treat for termites: Liquid applications, bait system installations, and borate applications. At B&T Pest Control, we offer a multiple dimension treatment, using a combination of all three treatments. No other company in eastern NC offers a termite service like ours. 
With our PestGuardPLUS Termite Service Program:
There are no booster treatments required
We proactively monitor your bait stations every two months to ensure that they do not return
We offer an environmentally friendly service
As the name implies, PestGuardPLUS includes our entire PestGuard program as well, meaning your home is fully covered in the extermination and prevention of general and premium pests, including Fleas, Mosquitoes, and Fire Ants. Our services are guaranteed, meaning we provide additional necessary service and no additional charge. Even better, PestGuardPLUS is very affordable, with low upfront initial costs and monthly rates as low as $59 when using auto-pay. This is the best treatment and value around for homeowners looking to protect their largest investment. 
PestGuardPLUS is the eastern North Carolina Termite Control service you need!
Save $100 Off PestGuardPLUS Today!
Know the Signs of Termite Infestations
Homeowners in eastern North Carolina, including Jacksonville and Wilmington, should watch for Subterranean termites and take precautions to prevent infestations. They are the most destructive insect pests of wood in the United States. They also love water, so homeowners should:
Make sure there are no leaking pipes and moisture in your structure. 
Keep drainages clean and clear to prevent water pooling.
Store firewood away from the home. Firewood should be checked regularly for signs of termites.
Image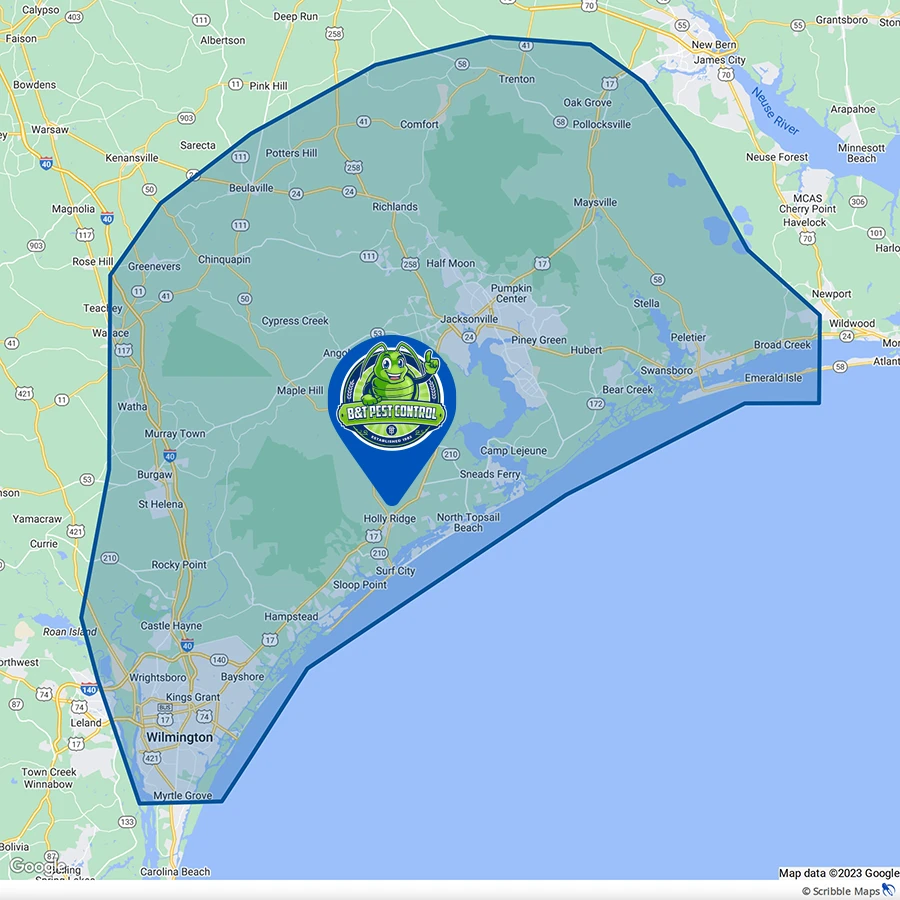 Areas We Service
B&T Pest Control has proudly offered our pest control services in Jacksonville and surrounding communities in eastern North Carolina since 1982, including: