Image
Premiere Pest Protection for Only $45/Month
What kind of pest problem are you having? Select all that apply.
Pest Control in Sneads Ferry
If you have pests in your home, you know how annoying they can be. As a Jacksonville pest control company, so do we, which is why we strive to provide quick, effective pest control in Sneads Ferry. With B&T Pest Control, you'll be protected from:
Ants
Spiders
Cockroaches
Bees
Silverfish
Rodents
Fleas
Mosquitoes
And more!
Get Premiere Pest Protection For Only $45/Month!
Providing Pest Control in Sneads Ferry for 

41

Years
We've been making homes just like yours pest-free since 1982, so we know the ins and outs of pest control in Sneads Ferry. It's our mission to make your house feel like home again, minus your unwanted pest visitors. When you work with us, you can expect:
One of our knowledgeable, professional Sneads Ferry exterminators to address your concerns and answer questions.
A comprehensive inspection to assess your current pest problem, both inside your home and around it.
Custom treatments that are tailored to your home's needs, giving you the most effective pest control service possible.
Long lasting pest prevention with our recurring visits. We'll ensure your home stays protected and pests stay out.
Image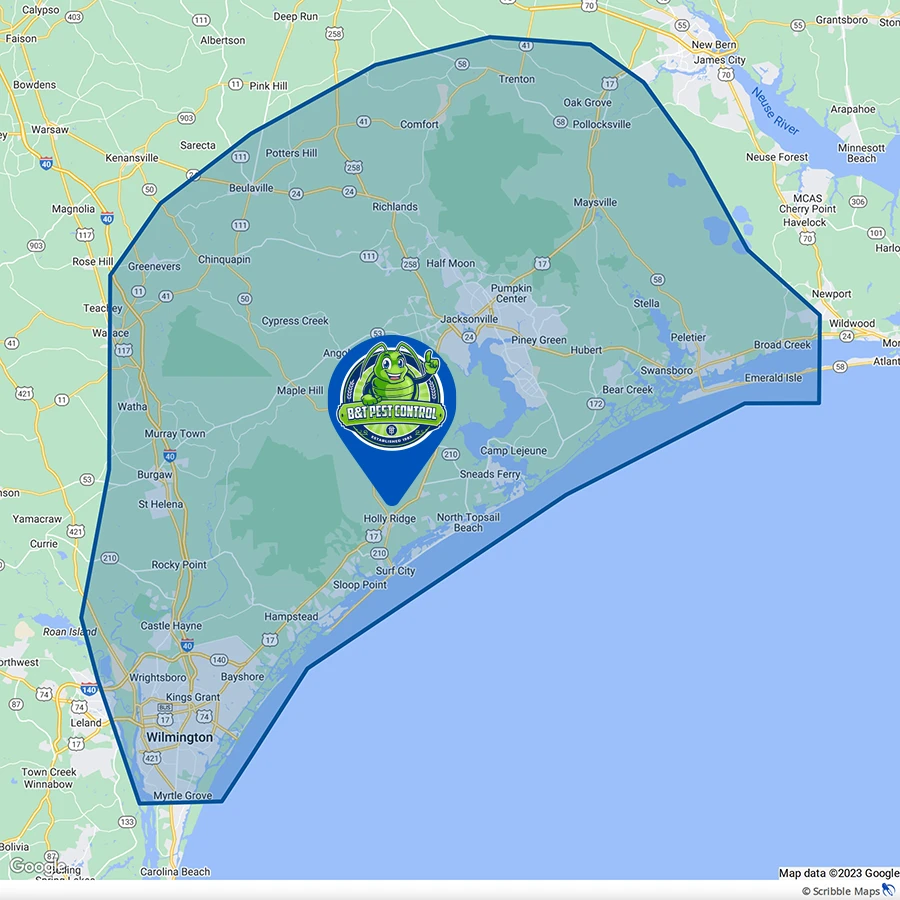 Inclusive Pest Control for $45/Month
Professional pest control in Sneads Ferry doesn't have to break the bank. We're proud to offer affordable programs, including our PestGuard program that is only $45 per month. When you join, you get top of the line treatments from one of the best pest control companies in Sneads Ferry at a price you can't beat. It includes:
Year round protection that consistently keeps pests away, no matter the season.
Quick treatment of common household pests as soon as you spot them.
Coverage for premium pests, like rats, fire ants, fleas, ticks, mosquitoes, and even more⁠—at no additional cost!
YardGuard for effective protection against lawn pests, up to a half acre.
Free emergency services when you need us.
Save $75 On Your PestGuard Initital Fee!
Fast Service with Guaranteed Results
After you see them, you want pests gone as soon as possible. That's why we proudly offer a satisfaction guarantee! When you call us, our Sneads Ferry exterminators will be there to to kick pests to the curb. Our PestGuard program comes with a built-in satisfaction guarantee, so if you aren't completely happy with our services, we will return to remedy the situation at no additional cost.
Bed Bug Treatment in Sneads Ferry
Not only are bed bugs one of the most feared pests to find your home, but they are also one of the hardest to get rid of as often as they reproduce. Don't waste time and let them take over your bed or couches—let the experts at B&T Pest Control take charge. We offer professional bed bug treatment in Sneads Ferry that wipes out bed bugs completely, giving you immediate and long-lasting relief you can count on.
Save $150 Off A Bed Bug Heat Treatment Today!
Get Guaranteed Bed Bug Relief 
When it comes to bed bugs, getting relief as quickly as possible is often a top priority. That's why our bed bug treatment in Sneads Ferry is designed to be fast and effective, restoring your bed-bug free home in as little as one day! We also offer a warranty with our bed bug treatment: if you see bed bugs within 30 days of the initial treatment, we will re-treat at no additional cost to you!
When you partner with us for bed bug treatment in Sneads Ferry, you will receive:
An inspection to confirm your infestation.
A customized treatment plan.
Chemical-free heat treatments to wipe out bedbugs in all stages of life.
A bed bug-free home in just one day—guaranteed!
Mosquito Control in Sneads Ferry
If you live on the North Carolina coast, you know how annoying mosquitoes can be. Their presence can make comfortable outdoor living all but impossible, but it doesn't have to be that way. At B&T Pest Control, we provide the best mosquito control in Sneads Ferry so you can get back to enjoying your outdoor spaces!
Affordable & Guaranteed Mosquito Control
Mosquitoes can be dangerous, carrying diseases and parasites such as Malaria, Heartworm, West Nile Virus, and Eastern Equine Encephalitis (EEE). Proper mosquito control isn't just essential for keeping your yard comfortable and your family safe—it's beneficial for public health. That's why we are proud to offer mosquito control in Sneads Ferry. We also believe that mosquito control should be affordable, which is why our PestGuard Packages start at only $45/month! When you trust B&T, you get affordable and guaranteed mosquito control—who can say no to that?
With our mosquito control in Sneads Ferry, you will receive:
A thorough inspection of your property completed by an expert mosquito exterminator. 
The elimination of all mosquito breeding sites.
The option for recurring or one-time services.
The use of EPA-approved mosquito control products, such as a mosquito spray or In2Care mosquito trapping. 
Guaranteed relief with our PestGuard packages. 
Moisture Control in Sneads Ferry
It can be easy to ignore the space beneath your home. Crawl spaces are notoriously damp, dark, and univiting places. However, crawl space moisture can cause serious problems if left untreated. A damp crawl space provides a breeding ground for dangerous pests like termites, threatens the structural integrity of your home, poses health concerns for you and your family, and consumes considerably more energy. If you think you might have moisture in your crawl space, call B&T Pest Control right away! In addition to treating pests, we provide expert moisture control in Sneads Ferry guaranteed to save you time, money, and energy.
Our moisture control in Sneads Ferry includes the following highly effective services:
A crawl space moisture evaluation.
Application of 8-mil reinforced crawl space vapor barriers guaranteed to reduce the amount of moisture that rises from the ground to the subfloor of the home. 
Sealing of all cracks and vents to prevent the inflow of humid air.
Installation of a high-quality, industrial grade dehumidifier to maintain dry air in your crawl space.
Crawl space moisture repair to leave your crawl repair as good as new!
Rodent Control in Sneads Ferry
Finding rodents in your home can be alarming. If you have spotted mice or rats in your home or have detected signs of rodents such as chew marks, droppings, or holes in walls and other materials, you have reason to be alarmed. These small pests present a serious risk to the health of your household, as they can transmit dangerous diseases by biting or by contaminating your food and water. Protect yourself and your loved ones from the dangers of rats and mice by calling B&T Pest Control today. With expert service at an affordable price, you can trust our rodent control in Sneads Ferry to provide you with the lasting results you deserve!
Get Lasting Relief with Rodent Exclusion
When it comes to rodent removal, setting a few traps around your home probably isn't enough. For lasting relief from a rodent infestation, you need services that will both eliminate rodents and prevent their return—otherwise, your problem will continue to grow as these pests find new ways into your home and quickly reproduce. If long-term results are what you want, we guarantee that you will be satisfied with our rodent control in Sneads Ferry that includes:
An inspection—We begin by sending a licensed rodent exterminator to inspect your home for a variety of pests at no cost to you.
A customized treatment plan—Depending on your unique situation, your exterminator will utilize a mixture of baits and mechanical traps to completely eliminate rodents.
Rodent Exclusion—In order to ensure lasting relief, we take the time to seal up cracks in the foundation of your property, improperly sealed vents, drain pipes, and other common entry points, saving you time and money with this cost-effective preventative treatment.
Free re-treatments—If you are not 100% satisfied, we will re-treat your home free of charge!
Termite Control in Sneads Ferry
Termites work quickly and quietly, chewing away at the structural integrity of your home. These pests cost homeowners across the nation over $5 billion in repair costs every year. While that may sound scary, our termite control services are here to prevent your home from becoming a part of that statistic. At B&T, we offer recurring proactive and reactive treatments, as well as a one-time treatment option. 
Our termite exterminators in Sneads Ferry will:
Complete a thorough termite inspection of your home's exterior and crawl space.
Treat your soil with an environmentally friendly solution to eliminate them.
Install an effective bait system, creating a barrier around your home's perimeter.
Monitor the bait stations every two months to give you long-term protection.
Give you our service guarantee—you'll see results or we'll re-treat for free!