Image
Pest Control in Holly Ridge Only $45/Month
What kind of pest problem are you having? Select all that apply.
Pest Control in Holly Ridge
Here in Holly Ridge, we enjoy beautiful weather and priceless views. Unfortunately, being this close to the coast also means more unwanted pests -- and that's where B&T Pest Control solutions come in. We're offering the most effective pest control services in Jacksonville and surrounding areas. We will quickly eliminate a current infestation and protect against future ones! 
B&T Pest Control in Holly Ridge protects your family from:
Cockroaches
Ants
Mice
Rats
Spiders
Bees
Wasps
Mosquitoes
Fleas
Silverfish
And many more! 
Family-Friendly Products for Effective Pest Control
Pest infestations are stressful, so we're dedicated to providing high-quality, dependable pest control in Holly Ridge. Our exterminators go through an extensive process to make sure you and your family are free of pests you may be facing. Here's what you can expect:
We'll perform a thorough initial pest inspection of the interior AND exterior of your home to gather all details of your current situation, types of types present, and conditions that attracted pests to your home. 
Our exterminators will design a customized treatment plan and apply interior and exterior treatments with EPA-approved products to effectively control your current infestation, prevent future occurrences, and keep you and your family safe. 
We'll perform recurring pest inspections and preventative exterior treatments to ensure your continued protection. 
Image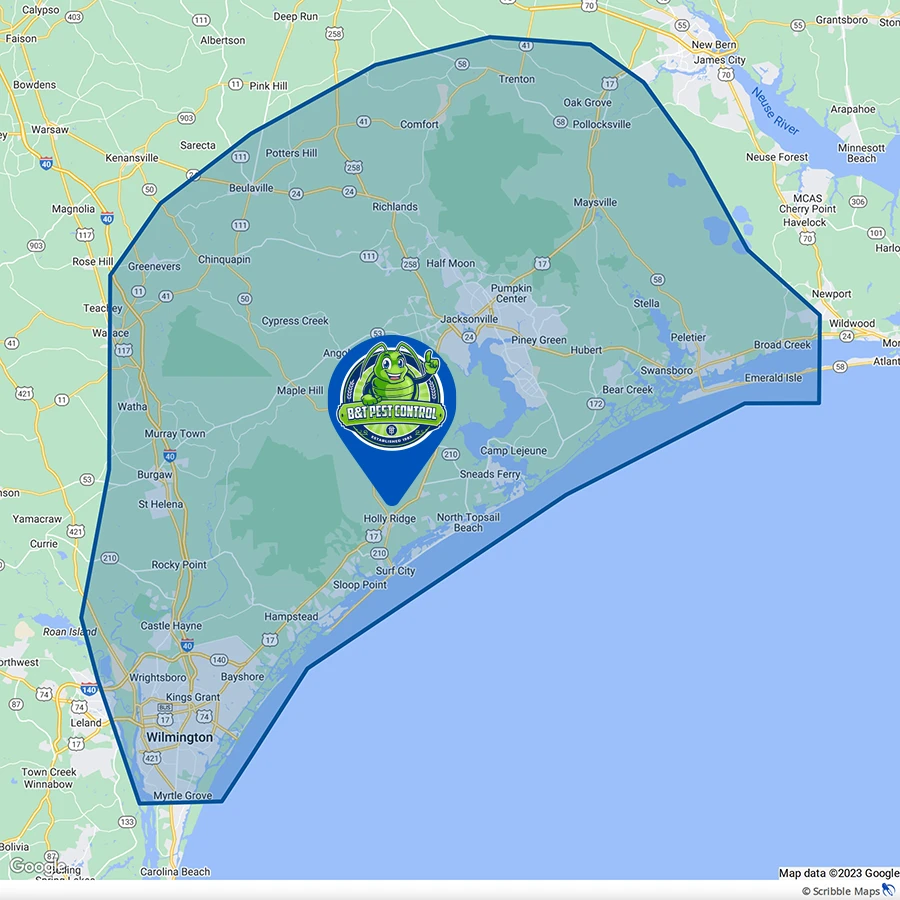 Get $75 Off Our PestGuard Program
Pest control in Holly Ridge should be easily accessible and affordable, which is why our most inclusive PestGuard program starts at just $45 per month! Following a one-time setup fee, you'll receive:
Yearly protection
Control of nearly all common household pests (only exceptions include German cockroaches, bed bugs, and wood-destroying insects)
Control of rats, fire ants, fleas, ticks, mosquitoes, hornets, and yellow jackets at no additional charge
YardGuard protection for up to one-half acre at no extra cost
6 bi-monthly exterior inspections and treatments each year
Additional emergency services for FREE when needed
When pests persist, we'll return at no extra cost to you!
Redeem $75 Off One-Time Setup Fee
Get Relief from a Satisfaction Guarantee
When you have a pest infestation, you want them gone for good. That philosophy is exactly why we offer a pest control satisfaction guarantee! When you choose B&T Pest Control in Holly Ridge, you'll get 41 years of experience and highly-skilled exterminators at your disposal for fast relief and peace of mind!
Mosquito Control in Holly Ridge
In Eastern North Carolina, the weather is temperate year-round, which means that mosquitoes are also active year-round. Luckily, B&T Pest Control can protect you and your family from itchy bites and mosquito-borne diseases. We provide mosquito control in Holly Ridge that's highly effective and safe for you, your family, and the environment! 
Save $75 on Our Comprehensive PestGuard Package
We want to provide you with service that's long-lasting and protects you from common household pests—including mosquitoes. We are proud to offer our PestGuard package, which is sure to provide you with the mosquito control you need! On top of offering comprehensive protection, our package is highly affordable and brings you guaranteed satisfaction.
When you sign up for mosquito control in Holly Ridge, you can expect:
A thorough inspection of your property completed by a professional mosquito exterminator.
EPA-approved treatments for service that's risk-free and will completely eliminate existing mosquitoes around your property.
Long-term protection with In2Care, a highly effective mosquito trapping system. 
The option for one-time treatments, which will provide you with fast relief for special occasions.
Your satisfaction, guaranteed!
Crawl Space Moisture Control in Holly Ridge
If you're looking for crawl space moisture control in Holly Ridge, B&T Pest Control has you covered. We recognize that North Carolina's warm climate and high humidity levels can make it a challenge to keep your crawl space dry and mold-free, and we're here to help with affordable dehumidifying and sealing treatments.  
Save Big on Crawl Space Moisture Control Treatments
Between the possibility of pest infestations, wood rot, high energy bills from unvented crawl spaces, and the risk of respiratory illness caused by exposure to mold and mildew, it's safe to say you don't want to leave this problem unchecked! 
Our crawl space moisture control service includes the:
Installation of crawl spaces vapor barriers that are 8-mil, overlapped, anchored, and taped for the highest effectiveness.
Sealing of all cracks to avoid excess moisture.
A state-of-the-art industrial-grade dehumidifier to remove existing moisture in the air.
Optional repairs to undo moisture damage.
Bed Bug Treatment in Holly Ridge
If you value your rest, you need a quality bed bug exterminator. Legendarily disruptive, irritating, and stubborn, these tiny bloodsucking insects require a serious response when they get indoors. At B&T Pest Control, our bed bug treatment in Holly Ridge is exactly what you need to reclaim your rest and get the clean home that you deserve. Our experienced exterminators are here to provide you with long-lasting relief that you can depend on. Get rid of bed bugs for good and take back your precious sleep!
Our bed bug treatment includes:
A full bed bug inspection of your home to identify all affected rooms.
Custom-designed treatment plans that work around your needs.
Free re-treatments up to 90 days after our initial service.
Guaranteed relief from bed bugs.
And more!
Fast and Minimally-Disruptive Service
Pest treatments have a reputation for being a pain. And in many cases, that reputation is well-deserved, but not when you choose B&T Pest Control! We proudly offer hassle-free and family-friendly heat treatments that can eliminate bed bugs in as little as one application. Rid your home of your infestation the easy way and give us a call today. 
Rodent Control in Holly Ridge
Rodents can cause some serious problems, both in terms of damage to your home, and harm to your health. Rats and mice carry many diseases, and can even spread other pests like fleas and bed bugs. If you've found signs of rodents in your home, such as droppings, sounds in the walls at night, or nibbled food in your pantry, call us for rodent control right away!
When you partner with B&T for rodent removal in Holly Ridge, you can expect:
An inspection from one of our experienced mice exterminators.
A treatment plan tailored to your specific needs.
Rodent exclusion measures such as sealing up the exterior of your home to make it difficult for rodents to find their way into your home in the future.
After 41 years of rat and mouse removal, we have a couple of tricks up our sleeves when it comes to efficiently and effectively getting rid of rodents in Holly Ridge. We'll see to it that your home is free of rodents.
Termite Control in Holly Ridge
Whether you want to protect your home from termite damage or already have an infestation, our termite treatment in Holly Ridge is the solution for you. We start with a thorough evaluation, then create a custom treatment plan based on your home's unique needs. Our combination of reactive and preventative treatments will protect both your home and your wallet from destructive termites!
When you choose our termite control in Holly Ridge, we will:
Search your property for signs of termites, such as mud tubes and damaged wood.
Use a combination of bait stations and soil treatments to eliminate termites.
Perform targeted treatments of vulnerable areas like crawlspaces.
Monitor your home to ensure termites don't try and come back.