Professional Exterminators that Get Rid of Pests Fast in Burgaw
What kind of problem are you having? Select all that apply.
Pest Control in Burgaw
Are common household pests invading your home and disrupting your peace of mind? Don't worry, we've got you covered! At B&T Pest Control, our expert exterminators are trained to handle a wide range of pests, ensuring a pest-free environment for you and your family. Trust us to provide the best general pest control services in Burgaw, guaranteed to eliminate even the most stubborn infestations.
Here's why you should choose us for pest control in Burgaw:
Comprehensive Pest Control: We specialize in treating ants, roaches, spiders, silverfish, fleas, moths, and much more. 
Thorough Pest Inspections: Our trained technicians conduct thorough pest inspections to identify the source and extent of the infestation. 
Recurring Treatments: Our recurring pest control services ensure that your home remains pest-free year-round.
Family and Pet-Friendly: Our pest control methods are safe for your family and pets, providing peace of mind while eliminating pesky intruders.
Guaranteed Results
We are confident in our pest control services, which is why we offer a satisfaction guarantee. If pests return between treatments or you're not completely satisfied, we'll return and provide any additional service necessary at no extra charge. Contact our team today!
Image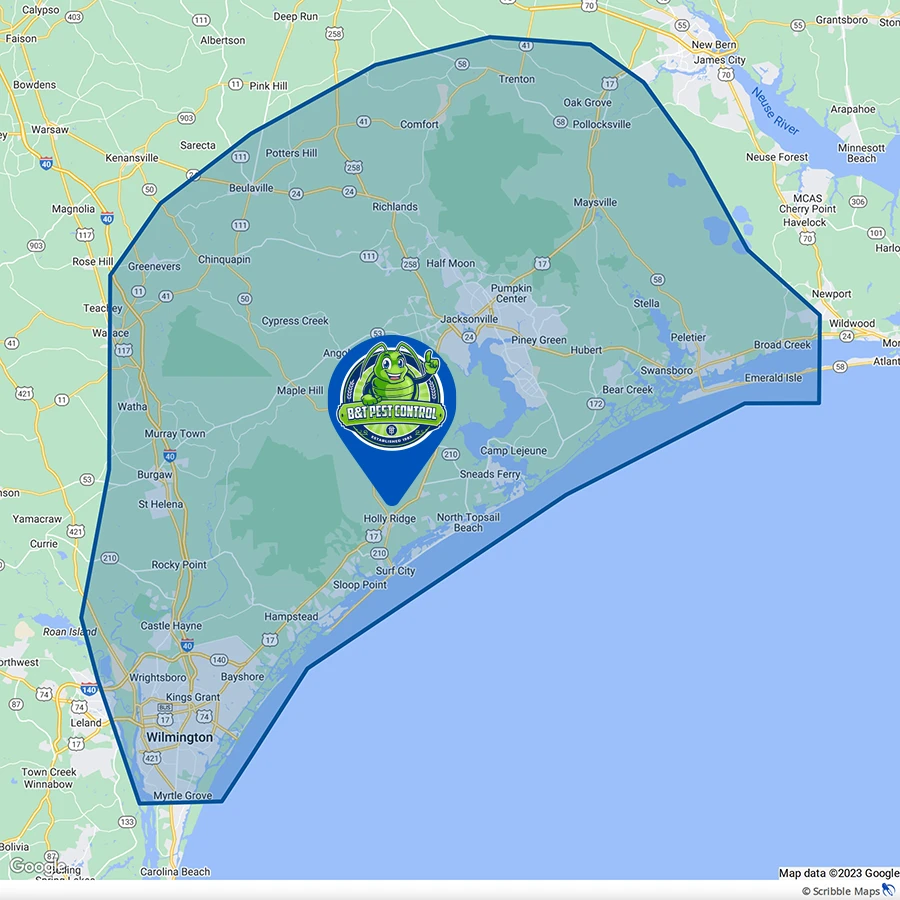 Termite Control in Burgaw
As the leading termite control service in Burgaw, we understand the unique challenges homeowners face in dealing with termites. In North Carolina's humid climate, termites thrive. Our ongoing monitoring and prevention services are essential in protecting your home from these destructive pests. Count on us to provide the expertise and solutions you need!
Our termite control services in Burgaw include:
Comprehensive termite inspections to identify any signs of termites.
Regular monitoring of bait stations to proactively detect and prevent termite infestations.
Ongoing termite control to ensure your home remains termite-free all year round.
Environmentally friendly termite treatments that are safe for your family and pets.
Local Termite Experts You Can Trust 
With over 41 years of experience, we have mastered the art of termite extermination, guaranteeing your peace of mind. Don't let termites destroy your home! Contact our top-notch termite control service today and get rid of termites once and for all.
Bed Bug Control in Burgaw
Are you losing sleep over bed bugs infesting your home? Look no further! B&T Pest Control is here to provide you with our top-notch bed bug service in Burgaw. With our expertise and high-intensity heat treatment, you can finally get rid of bed bugs and enjoy a peaceful night's sleep.
When you partner with us for bed bug control in Burgaw, you can expect:
A thorough bed bug inspection to identify the extent of the infestation and develop a customized treatment plan.
High-intensity heat treatment as the most effective approach to get rid of bed bugs.
With a single treatment, we can eliminate all growth stages of bed bugs, including the hard-to-detect eggs.
An efficient bed bug removal process that can be completed in just one day.
Our Bed Bug Warranty
We have a 30-day warranty in place, which means that if bed bugs are found in a treated area within that period, we will perform further treatment at no additional charge. By purchasing mattress encasements and box spring encasements with our service, you can extend the guarantee to 90 days. Don't let bed bugs disrupt your life any longer. Trust the expertise of B&T Pest Control, your dependable bed bug exterminator in Burgaw.
Rodent Exterminator in Burgaw
Discover the effective rodent control service in Burgaw, North Carolina. Our expert rodent exterminators are here to help eliminate these pesky pests from your home and provide ongoing prevention. Protect your family and keep your home rodent-free. Choose our affordable and efficient rodent control service. Contact us today to schedule your free rodent inspection and take advantage of our special offers.
Our rodent control process in Burgaw includes:
Free rodent inspection: Our team will inspect your home, looking for pests like mice and rats.
Exterior rodent baiting: We use a mixture of baits and mechanical traps to rid your home of rodents.
Interior trapping: We set traps to capture any remaining rodents.
Rodent exclusion: We seal up entry points in your home to prevent future infestations.
Mosquito Control in Burgaw
Our mosquito control program in Burgaw delivers guaranteed relief from these blood-sucking pests. With our customized treatment plans, we target the areas where mosquitos thrive, effectively reducing their population and minimizing the risk of bites and diseases.
Create a Safe and Comfortable Outdoor Space
Our team of experts is dedicated to providing exceptional customer service and effective pest control solutions. We prioritize the safety of your property, family, and pets by using EPA-approved products that are safe and environmentally friendly.
Wildlife Control in Burgaw
At B&T Pest Control, our highly skilled Certified Wildlife Techs are equipped to provide effective wildlife control services. We have multiple plans and methods for controlling wildlife pests, along with the correct tools to ensure safe removal. We take a cautious and responsible approach to protect both you and our employees during wildlife control visits.
Our wildlife experts will take care of: 
Birds
Squirrels
Raccoons
Opossums
And more
Local Wildlife Experts
Trust B&T Pest Control, the local wildlife experts. We have extensive knowledge of the wildlife in our area, their habits, and what attracts them to homes. Whether you have a one-time incident or an ongoing wildlife issue, we are here to help. Contact us today for effective wildlife pest control in eastern North Carolina.