Image
Rely on 40+ Years of Pest Control Experience
What kind of pest problem are you having? Select all that apply.
Pest Control in Rocky Point
Nothing can ruin your peace of mind like a pest invasion. Whether you've got mice in your cupboard, termites in your drywall, or cockroaches under your fridge, your friends at B&T Pest Control have the solutions you need to take back your home. With our Rocky Point pest control services, we can treat for any local pest, including:
Ants
Cockroaches
Rodents
Spiders
Mites
And more!
Comprehensive Pest Treatments for Your Peace of Mind
Getting rid of pests can be a complicated process. No one knows that better than our team at B&T Pest Control. With us, you'll have the security of knowing that our Rocky Point pest control is a comprehensive process that kicks pests out and keeps them out—for good! With our pest control in Rocky Point you can expect:
A thorough inspection to identify the type and extent of your infestation by one of our trained and friendly Rocky Point pest exterminators
Internal and external treatments to remove pests and keep them out
A pest-free home!
Image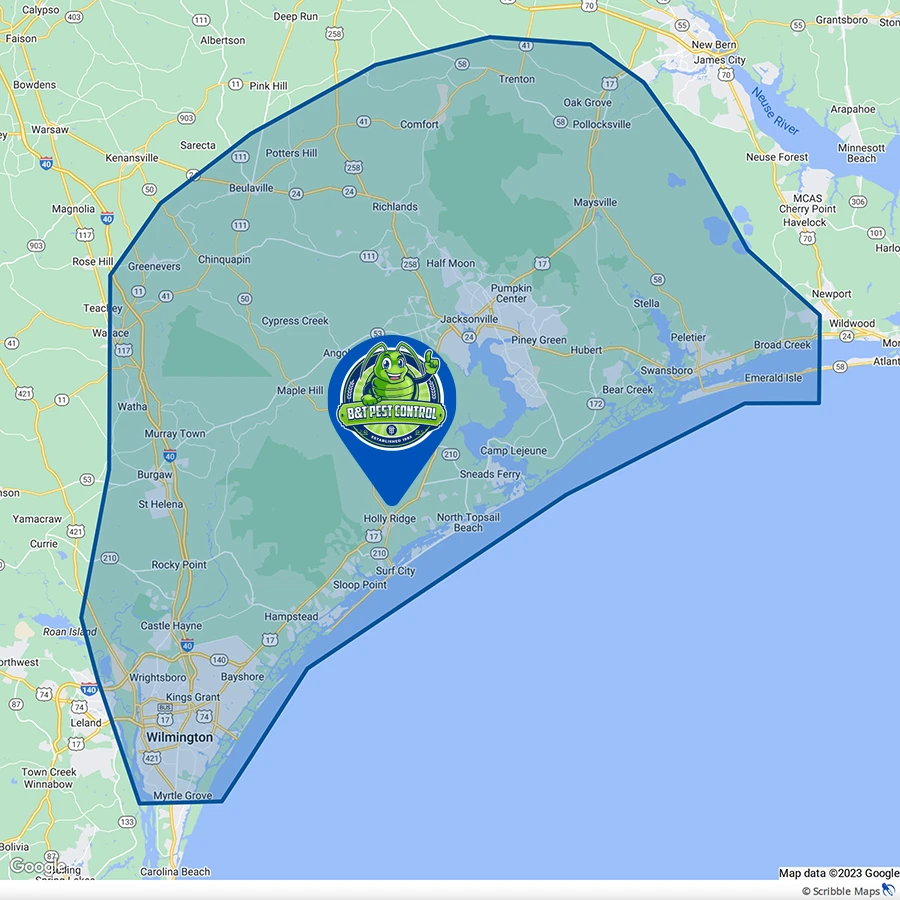 Termite Control in Rocky Point
Termites are responsible for over $5 billion worth of damage every year in the United States, making it imperative that you find out and treat any termite infestation as soon as you can. Rather than trusting the safety of your home to risky store-bought solutions, make sure you call in the professionals at B&T Pest Control and take advantage of our comprehensive termite control services. If you choose to use our team for your termite control in Rocky Point then you can be sure to receive: 
A complete termite inspection to identify signs of an infestation and locate any potential colonies. 
Custom treatment plans developed specifically for your home and needs involving bait and trap systems as well as soil and crawlspace treatments as needed. 
Effective treatments using the most up-to-date methods and techniques to ensure top-quality termite treatment.
EPA-approved products to give you the peace of mind that your home and loved ones will be safe. 
Mosquito Control in Rocky Point
Not only is sharing your yard with mosquitoes annoying, but it's also dangerous. They carry diseases like malaria, West Nile virus, and dengue. Professional mosquito control in Rocky Point is essential for keeping your yard safe and your family protected. Trust the experts at B&T Pest Control for safe, effective treatment that's guaranteed to work!
When you partner with us for mosquito control in Rocky Point, we will:
Inspect your property to find mosquito breeding areas and hiding places.
Use EPA-approved products that are safe for your family and pets.
Give you noticeable relief from mosquitoes.
Perform one-time treatments for special occasions like parties and weddings.
Back our services with a satisfaction guarantee.
Rodent Control in Rocky Point
Mice or rats scurrying in your basement, attic, or walls means you have a rodent infestation on your hands. And due to rodent's impressive reproductive capabilities, where there's one, there are usually many. Our rat and mouse removal experts at B&T Pest Control can help you get rid of an infestation thanks to our strategic approach, years of experience, and long-term prevention methods.
Our rodent control in Rocky Point includes:
An inspection carried out by one of our skilled mice exterminators.
A custom removal plan designed for your home.
Targeted treatment with baits and traps.
Rodent exclusion to fortify your home against future infestations.
Guaranteed satisfaction—we'll come back and re-treat if you're unsatisfied.
Protect your home from the damage these pesky creatures can inflict on insulation, walls, and framing; and protect your family from the diseases that mice and rats are known to carry. Our top-of-the-line rodent control is here to give you your home back.
Bed Bug Treatment in Rocky Point
Bed bugs are a homeowner's worst nightmare! They can easily sneak into your home and once they're inside, it's impossible to get rid of bed bugs on your own. Instead of relying on DIY treatments and potentially making the problem even worse, trust B&T Pest Control. Our bed bug treatment in Rocky Point will safely eliminate pests in just one day.
When you partner with us for bed bug removal, we will:
Perform a free inspection to identify what areas are affected.
Create a custom treatment plan based on our findings.
Eliminate all bed bugs using family-friendly heat treatments.
Install mattress and box spring encasements if needed.
Give you a 30-day service guarantee.
Moisture Control in Rocky Point
Humidity is a part of life in North Carolina and you need to find a way to adapt to or overcome it in many situations. One of the biggest challenges is in your crawl space. Without moisture control, you are subjecting your home and family to an increased possibility of pest infestations, wood rot, high energy bills, and health risks from the presence of mold and mildew. Our crawl space moisture control in Rocky Point will help with all of that and more.
Reliable and Effective Crawl Space Remediation
Protecting your home and family is the top priority at B&T Pest Control. During a free inspection, our expert technicians will determine the extent of your crawl space moisture problem and develop a custom plan that will address your unique issues. Our prices may appear to be slightly higher than our competition, but we offer a more inclusive service and use the appropriate materials to get the job done right the first time.
Our crawl space moisture control service in Rocky Point includes:
Use of 8-mil reinforced crawl space vapor barriers that are strategically installed to limit the amount of ground moisture that can reach your subfloor.
Sealing all cracks to keep the moist outside air from entering.
Installation of an industrial grade dehumidifier sized for your crawl space.
Identification of moisture damage and the option for any necessary repairs.
Your Pests Will be Gone—Guaranteed!
When it comes to Rocky Point pest control, you don't want to have the added worry of ineffective treatments when you're already dealing with an infestation. With B&T Pest Control, you'll have the peace of mind of our 100% Satisfaction guaranteed with our pest control in Rocky Point: if your pests return after treatment, just let us know and we'll be back in no time to fix the issue—at no additional cost! That's the security you deserve.