Image
Pest Control in Richlands for Only $45/Month!
What kind of pest problem are you having? Select all that apply.
Pest Control in Richlands
Here in sunny NC, our warm climate is the perfect environment for a whole host of aggravating pests. If you need pest control in Richlands designed to eliminate your infestation from the roots up, your neighbors at B&T Pest Control are the solution you've been looking for. Since 1982, we've been providing guaranteed service to our community for a variety of pests, including the following:
Ants
Spiders
Cockroaches
Stinging Insects
Rodents
Fleas
Mosquitoes
And more!
Quality, Recurring Pest Control at Affordable Prices
Dealing with pests is already frustrating enough without having to worry about paying an exterminator in Richlands an arm and a leg to solve your pest problems. B&T Pest Control is dedicated to making sure you get the quality pest extermination in Richlands you need without putting a dent in your budget. With 41 years of experience, we're happy to provide quality service to give you relief quickly, before pests do any more damage to your home or health. Even better, our treatments are EPA-approved, meaning you'll have the reassurance of knowing that your loved ones will be safe. When you partner with us for pest control in Richlands, you can look forward to the following:
An initial inspection to assess your home's needs.
A customized treatment plan designed by one of our experienced exterminators in Richlands complete with interior and exterior servicing.
Recurring treatments to keep pests out of your home and out of your hair—for good!
Image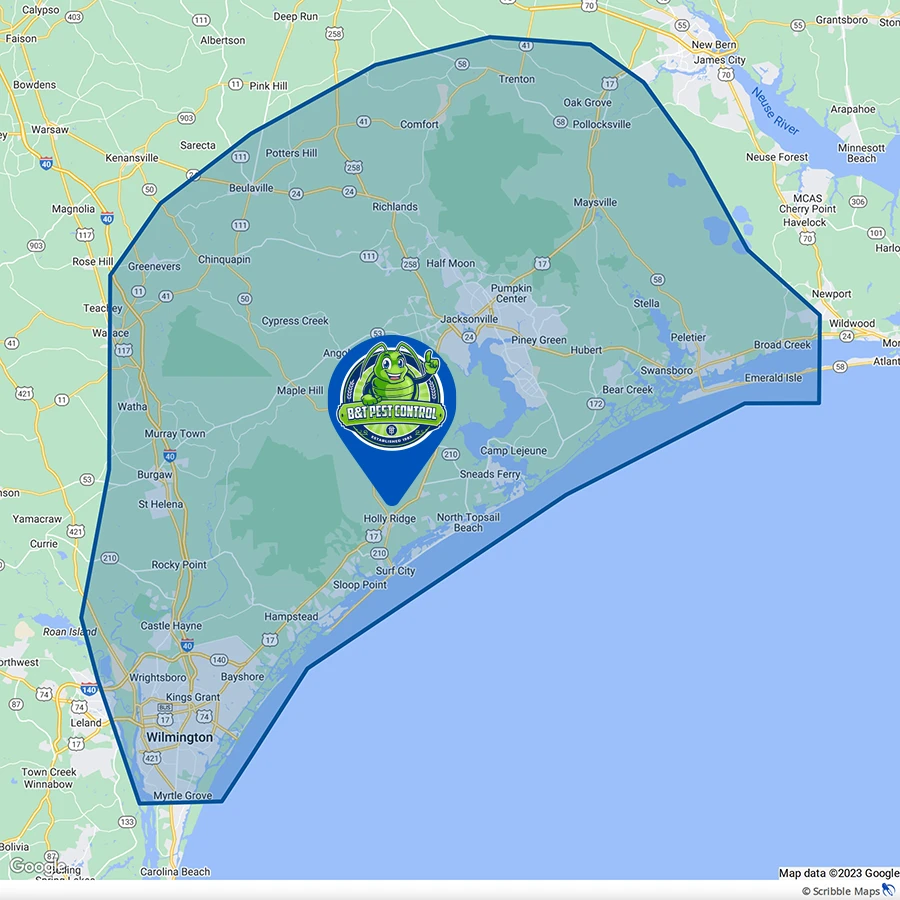 Guaranteed Pest Control Services in Richlands
Your home is the one place you should always feel safe and secure. Don't let pests take that away from. Our team at B&T Pest Solutions wants you to know that when you work with us, your pest worries will be a thing of the past thanks to our satisfaction guarantee: if you experience pest problems in between scheduled treatments, all you have to do is let us know to receive a free follow-up treatment. It's that easy. 
Mosquito Control in Richlands
Not only do mosquitoes carry all kinds of diseases such as Malaria and EEE, but they're also just downright annoying and nearly impossible to get rid of on your own. Unless you feel like arming yourself with a swatter and a gallon of mosquito repellant every time you step outside your house, you'll need a professional exterminator. That's where B&T comes in with our mosquito control in Richlands! Armed with the most cutting-edge and family-friendly mosquito control methods in the business, we'll send these pests packing so you can enjoy your backyard all year round.
Family-Friendly Mosquito Treatments from the Professionals
Why stress yourself out with expensive, ineffective DIY mosquito control like tiki torches and mosquito spray when you could let a team of seasoned exterminators take care of your problem for you? When you trust in B&T for mosquito control in Richlands, you won't have to worry about any money-wasting sprays or being cooped up inside your home because of infestations—we'll do all the work for you.
With B&T as your mosquito control provider in Richlands, you'll receive:
A thorough inspection to identify where in your yard mosquitoes are breeding.
Family-friendly treatments that won't wreak havoc on your home, yard, or loved ones.
Guaranteed services, meaning if mosquitoes return, so do we!
Crawl Space Moisture Control in Richlands
Having moisture under your home may not sound like a big deal, but it can have serious impacts on your home and family's health. Excess crawl space moisture creates the perfect environment for termites, increasing the likelihood of an infestation. It can also lead to wood rot, as well as mold and fungus that aggravates respiratory issues. Luckily, we offer moisture control in Richlands, so you don't have to worry about any of that.
Keep Humidity Out & Protect Your Home's Foundation
It can be difficult to know if you have a moisture issue, which is why we offer an inspection as a part of our crawl space moisture control service. One of our technicians will determine the wood moisture content and relative humidity in your crawl space and alert you if there's anything abnormal. 
After your inspection, your technician will create a customized plan for your moisture control service which can include:
Crawl space vapor barriers—Reinforced polyurethane sheets are overlapped, anchored, and taped to create a protective barrier that reduces the moisture that rises from the soil.
Sealing foundation cracks—If there are cracks or gaps in your foundation, we'll seal them to prevent moist air from flowing into your crawl space from outside.
Dehumidifier installation—We'll install an industrial grade dehumidifier under your home that efficiently removes moisture from the air.
Moisture damage repair—If we find moisture damage during our inspection, we'll complete the necessary repairs to make your crawl space healthy again.
Bed Bug Treatment in Richlands
With infestation rates rising across the United States, bed bugs are becoming a common problem for homeowners. Many assume these pests are only found in motels and other high-traffic locations, but they can make their way into even the cleanest home by riding in on clothing, luggage, and used furniture. If you've found yourself dealing with bed bugs, our team at B&T has you covered with our bed bug control in Richlands.
You'll Be Bed Bug-Free—We Guarantee It!
Not all bed bug treatments are created equal. The best treatments combine safe, effective treatments with years of experience to give you visible results before you know it. Our methods utilize a non-toxic, non-chemical approach to eliminate the infestation without putting your health at risk. Even better, we pride ourselves on providing affordable treatments because we believe quality bed bug control should never have to break the bank. 
Schedule Your Bed Bug Inspection Today!
When you team up with us, you can expect the following from your bed bug exterminator:
A bed bug inspection to assess your home's situation.
The elimination of your infestation in one bed bug heat treatment.
Our 30-day Bed Bug Heat Treatment Guarantee—if bed bugs return within a month of your first treatment, you'll get a free re-treatment.
Termite Control in Richlands
There's a reason why pest control professionals refer to termites as "silent destroyers." After all, they're responsible for upwards of $5 billion in home damage every year! At B&T Pest Control, we keep you a step ahead of termites. When your home is protected by our termite control, we eliminate live bugs in your home and guard against future infestations. 
Our termite control includes:
In-depth home inspections from local termite exterminators.
Personalized termite treatment plans based on your needs. 
Safe, EPA-approved products that keep your family safe during our service.
High-tech equipment to quickly and efficiently get rid of these bugs.
In-ground repellents around your home to prevent future infestations. 
Guaranteed satisfaction.
And more!
Experienced and Local Termite Treatment
Termites can be difficult to get rid of and have the potential to cause extreme damage to your home. Knowing that termites are actively munching away isn't something that we want for any of our clients. With B&T you can trust our experts and our 41 years of experience to find the right solution for you. Choose the best pest control company in the Jacksonville area! 
Rodent Control in Richlands
Finding droppings, gnaw marks, and nesting materials in your home can be alarming, but B&T Pest Control has your back! Our rodent control in Richlands will not only get rid of rodents, but we'll also make sure they don't come back. With over 41 years of experience and a satisfaction guarantee, there's no better option!
When you partner with our rodent exterminators, we will:
Inspect your home to find entry points and hiding places that rats and mice are using.
Eliminate rodents using a combination of baits and mechanical traps.
Prevent future infestations with exclusion repairs.
Give you our satisfaction guarantee.