Image
Guaranteed Pest Protection For Just $45/Month
What kind of pest problem are you having? Select all that apply.
Pest Control Exterminators in Swansboro
When it comes to choosing exterminators in the Jacksonville area, there are a lot of things to consider. Here at B&T, we try to make that choice easy. With over 41 years of experience providing quality pest control in Swansboro, our services are accessible, affordable, and risk-free, making us the clear choice when you're dealing with an infestation! When you choose to partner with us, you will receive:
An in-depth initial inspection carried out by one of our expert exterminators.
A customized treatment plan to address pests inside and out for total relief.
Recurring visits to ensure your home stays pest-free for the long haul.
Year-round protection, guaranteed.
Comprehensive Protection From All Of Your Pest Invaders
Here at B&T, our mission is to exceed our clients' expectations and surpass our competitors' efforts. For us, this means giving you comprehensive protection from almost all of your pest invaders. While other pest control companies may charge you extra for added protection from fire ants, yellow jackets, or other premium pests, our inclusive PestGuard program is a one-stop-shop for all of your household pest needs. This includes protection against a wide variety of eastern North Carolina's most common pest invaders like:
Ants
Rodents
Hornets
Fleas
Spiders
Cockroaches
Mosquitoes
And more!
Image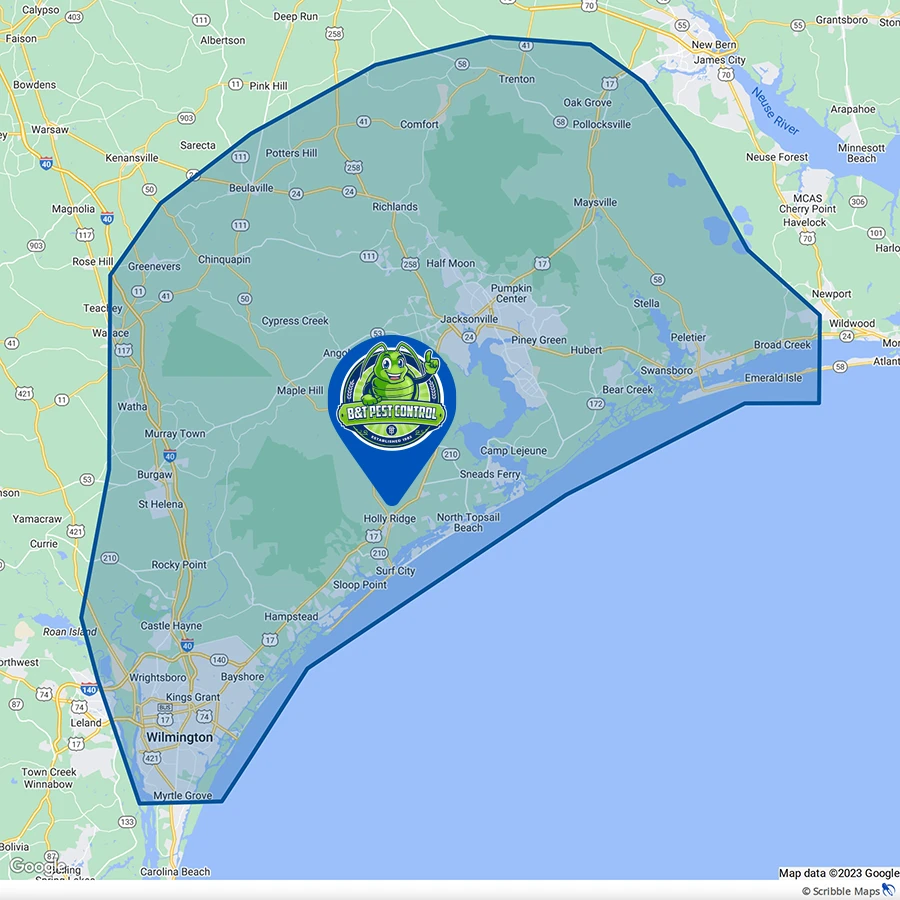 Stress-Free Pest Control, Guaranteed!
Finding an infestation in your home can be stressful, but dealing with it shouldn't have to be. That's why our Swansboro pest control services are designed with you in mind, so you can get back to living your life pest-free and stress-free in no time! This includes:
EPA approved products that are safe for use around families without compromising on effectiveness 
Free emergency services if needed
A pest-free guarantee to promise that if you aren't satisfied with our services, we'll come back to retreat at no cost to you!
Mosquito Control in Swansboro
When you're frustrated with not being able to use your backyard or patio in the summer due to mosquitoes buzzing around, B&T Pest Control is here to help. For just $45/month, you and your home can be mosquito-free!
We don't just eliminate your existing problem, we can protect you all summer long from mosquitoes and the diseases they carry. Our mosquito control in Swansboro includes:
A thorough inspection of your property to find what's attracting mosquitoes and where they're breeding. 
A customized treatment plan from an experienced mosquito exterminator. 
EPA-approved products so you can be confident knowing your family is safe! 
Recurring treatments for a mosquito-free yard all season long. 
Your satisfaction, guaranteed!
Special Event Treatments Available!
Do you have a summer party coming up? Maybe you're hosting your neighborhood cornhole tournament. As part of our mosquito control in Swansboro, we offer a one-time service so you can worry about hosting— not mosquitoes. 
Bed Bug Treatment in Swansboro
For most homeowners, bed bugs mean sleepless nights, itchy red bites, and constant worry.  If you're worried that the tiny rust-colored spots and discarded skins you're finding on your sheets are signs of a bed bug infestation, don't wait to contact BB&T Pest Control–the experts in bed bug treatment in Swansboro. With our heat treatments, we guarantee the total removal of bed bugs with as little as one treatment.  Get the rapid relief you deserve by giving our team a call today!
Heat Treatments for Safe and Rapid Bed Bug Removal
A bed bug infestation can happen to anyone, no matter how clean you keep your house. No one wants an infestation, but it's not the end of the world. With our top-quality heat treatments, bed bugs will be gone before you know it. Here's how it works:
First, a highly-trained bed bug exterminator will provide a thorough bed bug inspection to identify the sources of infestation.
Next, we will customize a bed bug removal plan based on the results of our inspection and your specific feedback.  
Your exterminator will then utilize thermal heat bed bug treatment to force heat into beds, mattresses, furniture, and wall cavities, ensuring complete bed bug elimination without the use of harmful chemicals.
For an additional fee, we will also install mattress and box spring encasements which have been proven highly effective at preventing infestation.  
If bed bugs are found in a treated room or area within the next 30 days of treatment or within 90 days of mattress encasement purchase, B&T Pest Control will perform further treatment at no additional charge.
Termite Control in Swansboro
North Carolina termites often go undetected until it's too late. At B&T Pest Control, we pride ourselves on providing quality termite control in Swansboro, including a detailed termite inspection to save you and your family thousands of dollars in property damages. We make sure to evaluate all areas of the home, not just already infested portions, but potential weak areas like under porches and in crawl spaces that could become termite prone in the future. Our expert termite exterminators are dedicated to providing you with complete protection for a termite-free home!
When you partner with B&T for termite control, you can expect:
Our one-of-a-kind PestGuardPlus treatment program
A multiple-dimensional treatment plan that includes liquid applications, bait system installations, and borate applications.
Soil treatment around your home's exterior.
Bait system installation and monitoring around your home's perimeter.
Eco-conscious service.
And more!
Rodent Control in Swansboro
Rats and mice might look harmless, but they're actually a danger to your entire family. These pests can transmit diseases like hantavirus and salmonella, contaminate your food, and cause painful bites. Instead of trying to eliminate them on your own, trust our rodent control in Swansboro. Our rat exterminators are highly-trained and equipped with the best products in the industry, ensuring you see results in no time.
When you partner with us for rodent removal in Swansboro, we will:
Inspect your home for signs of rodents, such as drywall damage and nests.
Create a custom treatment plan that uses a combination of baits and traps.
Perform exclusion repairs to prevent future infestations from entering your home.
Back our services with a satisfaction guarantee and free emergency callbacks.