Crawl Space Moisture Control in Jacksonville, NC
It is not unusual for homes in our area to have a moisture level in the crawl space in excess of 20% or much higher. This degree of dampness encourages the growth of mold, fungus, and mildew. When wood moisture levels exceed 28%, wood rot is inevitable. Crawl space moisture problems present 4 types of issues:
An inviting environment for pests and wood-destroying insects such as termites
Potential damage to your home itself
Health concerns for you and your family
Energy consumption
Pests & Wood Destroying Insects - Pests Make Themselves at Home
Like all other living organisms, pests need and are drawn to water. The more moisture you have in your crawl space, the higher the likelihood pests will make themselves at home. Termite treatments are usually placed in the ground because that's where termites come from. However, if the moisture content in the wood your home is built with exceeds 20%, termites can thrive in spite of a treatment, because they can obtain enough moisture from the wood that they don't have to retreat to the soil and can avoid the treatment. Most termite service agreements become null and void if moisture conditions are not corrected.
Effective Crawl Space Moisture Control Services and Crawl Space Repair
B&T Pest Control offers a crawl space moisture evaluation. After evaluation, our inspector can advise you of the wood moisture content as well as the relative humidity in your crawl space. If there are any problems, we can advise a course of action which may include:
8-mil reinforced crawlspace vapor barriers that have been overlapped, anchored, and taped to reduce the amount of moisture that rises from the ground to the subfloor of the home (some companies use 6-mil and do not overlap, anchor, and tape seams).
Sealing all cracks and vents to prevent the inflow of moist, outside air. 
Installation of an INDUSTRIAL grade dehumidifier with a pump to keep the air in your crawl space dry (some companies use a cheap, indoor, portable dehumidifier that are designed for single rooms inside the home and NOT for whole house use in the crawl space).
After our evaluation, if we find moisture damage, we also offer crawl space moisture repair to help repair your crawl space to a healthy state.
Affordable Crawl Space Solutions
Keeping your crawlspace clean shouldn't empty the piggy bank! Here at B&T pest control, we now offer special offers, like $250 off a complete crawl space sealing and dehumidifier!  We always do whatever we can to make things easier for our valued customers.
Image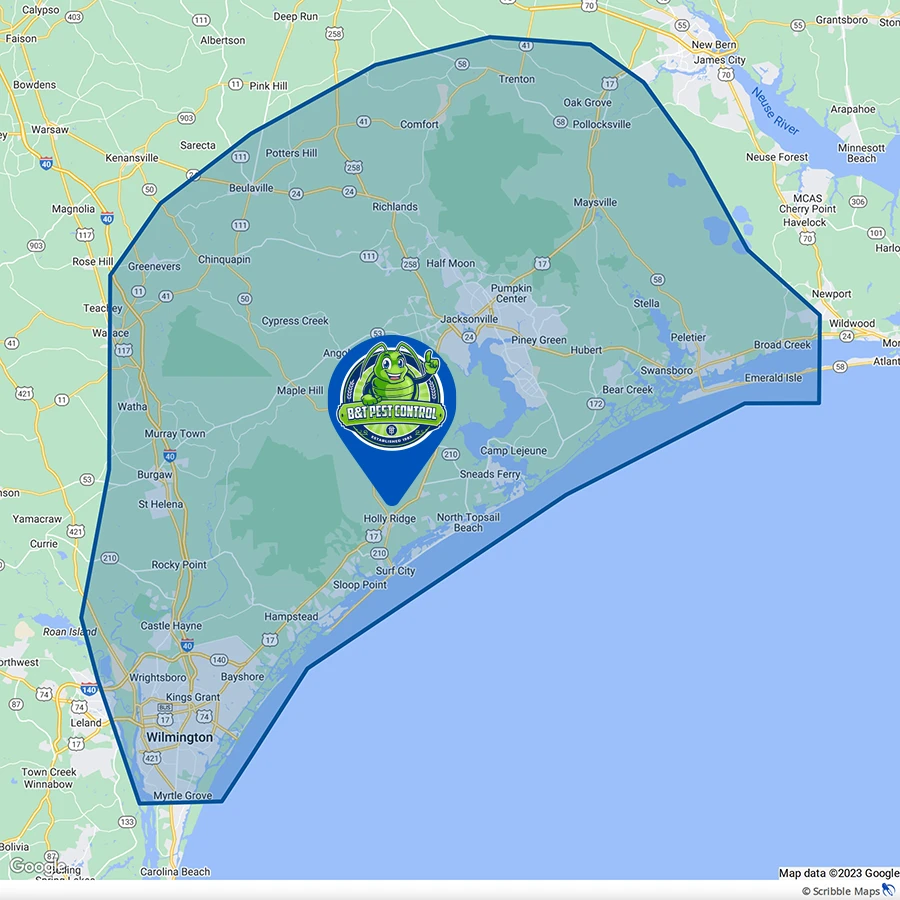 Areas We Service
B&T Pest Control has proudly offered our pest control services in Jacksonville and surrounding communities in eastern North Carolina since 1982, including: