Mosquito Control in Jacksonville
Mosquitoes are not just annoying pests, but they are also carriers of numerous diseases that pose a significant threat to human health worldwide. It is crucial to take preventive measures to protect ourselves and our pets from mosquito bites and the diseases they carry. Some of the most common diseases transmitted by mosquitoes include:
Malaria
Yellow fever
Dengue fever
Guaranteed Relief With Our PestGuard Package
Mosquitoes are included with our guaranteed PestGuard pest control program at no additional charge. If you own a home or business in Eastern North Carolina, you should consider being on a regular mosquito pest control program. Protecting your home and business from all types of pests is important, especially mosquitoes. For only $45/month, you and your home can be guaranteed against mosquitoes, too!
How Our Mosquito Control Service Work
Our first step is to conduct a thorough inspection of your property. To get rid of mosquitoes around your home, our mosquito exterminators have to identify the source. Mosquitoes usually breed in small pools of water, such as small containers, tree holes, buckets, birdbaths, and even ditches and ponds. If these are not eliminated, the mosquitoes will breed again in no time. The products that our mosquito exterminators use have been tested and approved by the EPA for effectiveness with the safety of your property, your family and pets, and the environment in mind.
We Offer One-Time Mosquito Treatments Too!
We give our clients options. If you have an outdoor party, a wedding, or a dinner, it can be painful and embarrassing for your guests to fight off mosquitoes during the event. We offer single-event mosquito treatments for these scenarios. Or you can choose to get mosquito protection for your home or business for the entire season.
Mosquito Bite Prevention Tips
There are some things you can do to help prevent mosquito bites:
Wear light-colored clothing, long sleeve shirts, and long pants when possible.
Avoid outdoor activity when mosquitoes are most active which is typically around dawn and dusk.
Use one of the mosquito repellents recommended by the Centers for Disease Control (CDC). DEET (30 percent or less for adults and 10 percent or less for children should be sufficient) and picaridin are considered to be the most effective mosquito repellents. Oil of lemon eucalyptus also repels mosquitoes but is less effective than DEET. Follow the label directions when using any mosquito repellent product.
Keep windows and doors screened.
Eliminate mosquito breeding places around the home. Be sure to empty, destroy, recycle or cover containers like tires, tin cans, buckets and bottles where mosquitoes can lay their eggs. Change water in bird baths and pet bowls at least once a week. Remove or empty dishes under potted plants.
Image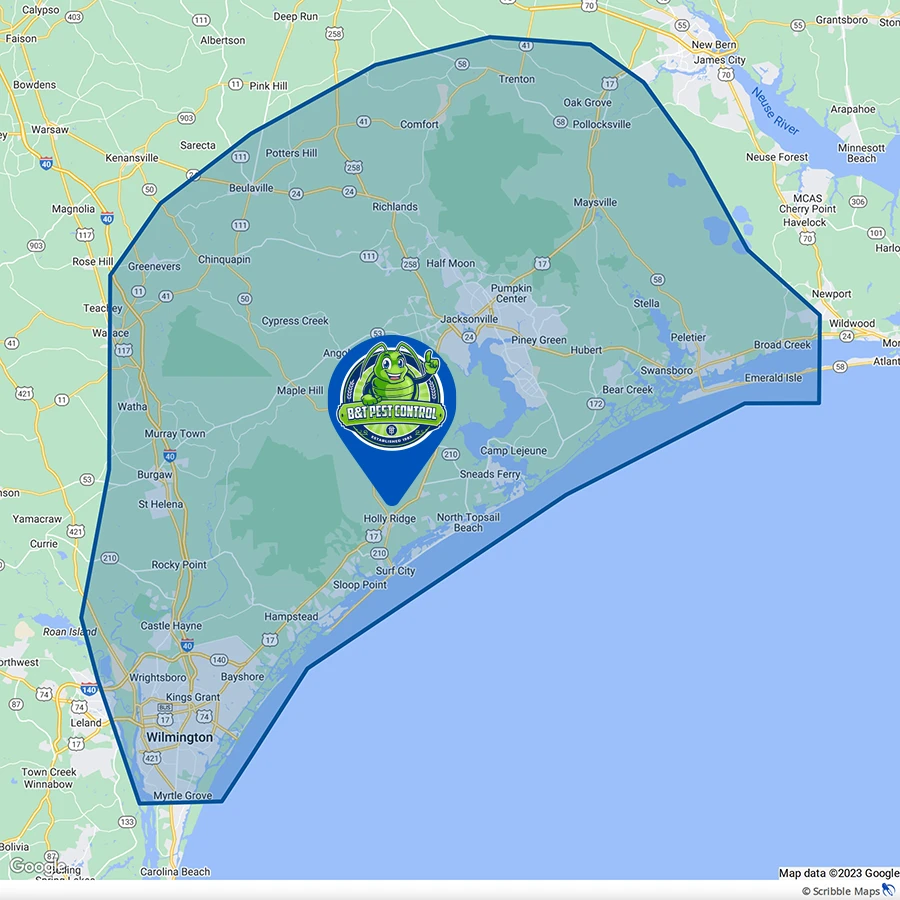 Areas We Service
B&T Pest Control has proudly offered our pest control services in Jacksonville and surrounding communities in eastern North Carolina since 1982, including: