Flea Control in Jacksonville
You can try some home flea treatments on your own, but from our experience most off-the-shelf products will not eradicate the problem. The DIY stuff is often a temporary band-aid before the fleas multiply again. The best way to eliminate a home flea problem is to call in the professional flea control team at B&T Pest Control. We have over three decades of experience eliminating flea infestations. We are experts at flea treatments. We come recommended as one of the best flea control companies in Eastern NC.
Hire B&T Pest Control For Flea Treatments
We don't just walk in with a can of spray and walk out. We use a three-step process utilizing special long-term powders, liquid treatments with insect growth regulators, and special aerosol flea treatments to treat the carpets, hard floor surfaces, and your upholstered furniture. Many pet owners worry about the chemicals that are used in their homes to get rid of fleas. You will be happy to know that all the products we use have been tested and approved by the EPA for effectiveness with the safety of your family, your pets, and the environment in mind.
Guaranteed PestGuard Covers Fleas - Only $45/Month!
Did you know that our guaranteed PestGuard pest control service covers fleas? For only $45/month you can keep fleas out and rest easy knowing that your home is covered! We do more than just get rid of fleas. By choosing our Flea Magic Flea Treatment, you are ensuring that you don't get fleas for a long time. Our Flea Magic Flea Treatment comes with a one-year written guarantee! If fleas re-infest your home, we will return and treat the infested areas at no additional charge!
Flea Treatments Both Indoors & Outdoors
Keeping the inside of your home flea-free is important, but it's equally important to make sure your lawn is not a breeding ground for fleas. This is where lawn flea treatments come in handy. Fleas can easily hitch a ride on your pets or clothing and end up inside your home. By treating your lawn, you can reduce the risk of fleas entering your home and causing an infestation. It's a preventative measure that can save you time, money, and frustration in the long run. At our company, we understand the importance of a pest-free home, both inside and out, and that's why we offer lawn flea treatments as part of our services.
We Offer Move-Out Flea Treatments
We offer move-out flea treatments. This economical one-time service is ideal for tenants whose lease requires a flea treatment to get their security deposit back. (Note, however, that these move-out treatments do not come with a warranty.) Don't expose your family and your pet to diseases that are caused by fleas! Call us right away and schedule an inspection for fleas in and around your home.
Image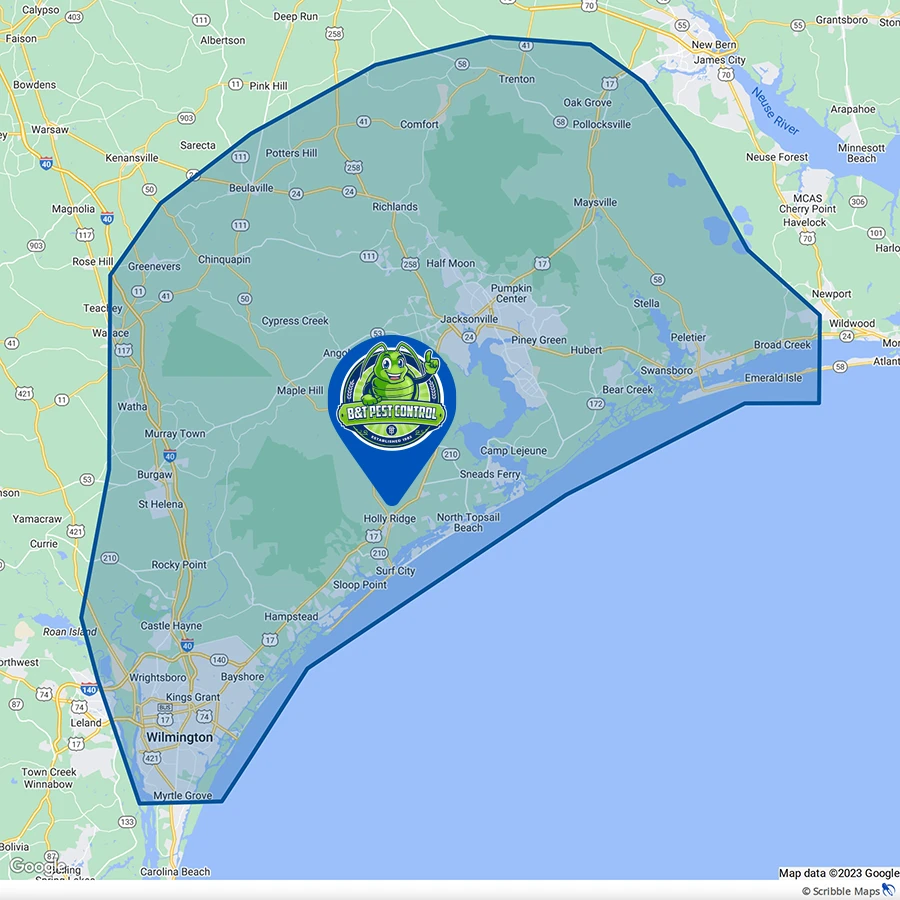 Areas We Service
B&T Pest Control has proudly offered our pest control services in Jacksonville and surrounding communities in eastern North Carolina since 1982, including: